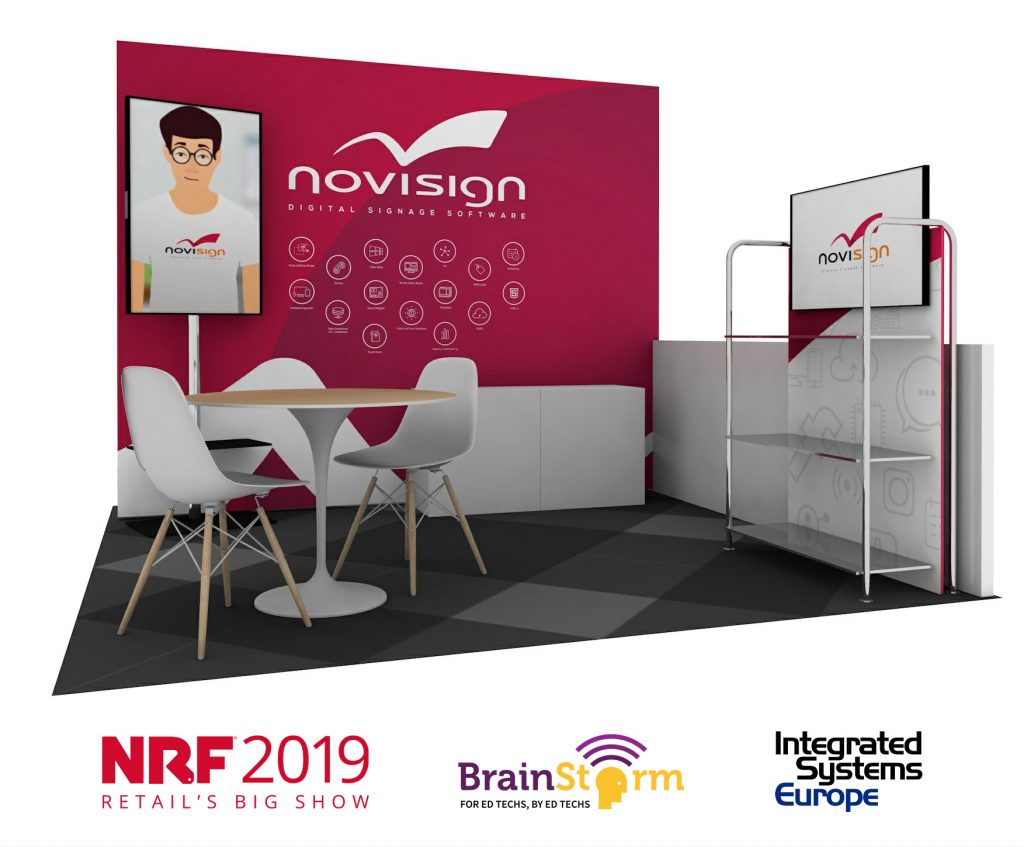 This coming year 2019 NoviSign will be exhibiting at NRF The Big Show in New York City, ISE in Amsterdam and Brainstorm K12 Educational Technology Conference in Wisconsin Dells.
NRF Retail Big Show 2019, the World's Largest Retail Trade Show!
When: January 13th – 15th, 2019
Where: Jacob K. Javits Convention Center, NYC
Join NoviSign at booth #929 to learn how and why you need to begin using experiential retail digital signage to create memorable shopping experiences while driving revenues! At the booth, you will find Valentine's Day themed booth, that showcases the newest in experiential digital signage. The booth will be setup with three POP retail digital signage end-cap product themes that have been specially designed to educate, inform and sell.
ISE 2019, the World's Largest AV and Systems Integration Show
When: February 4th – 8th, 2019
Where: RAI Amsterdam, Netherlands
If your serious AV professional this show is a must! With over 130 exhibitors and 80,000 attendees, ISE brings integration professionals together to collaborate, learn and do business. Join NoviSign at booth 8-E360 to see the newest in IoT Digital Signage technologies! From touchscreen wayfinding digital signage to sensor-based RFID integrations you will discover the newest in cutting-edge digital signage technologies.
BrainStorm 2019, K12 Educational Technology Conference
When: March 3rd – 5th, 2019
Where: Kalahari Resort & Conference Center
BrainStorm is the Midwest's largest Ed Tech conference for K12. Designed to connect, inform and inspire education technologists. Join NoviSign to see the newest in reliable and effective digital signage for K12. Learn on how your school can easily and quickly deploy digital menu boards for your cafeteria, displays in your lobby and screen across your school to broadcast day to day messaging.