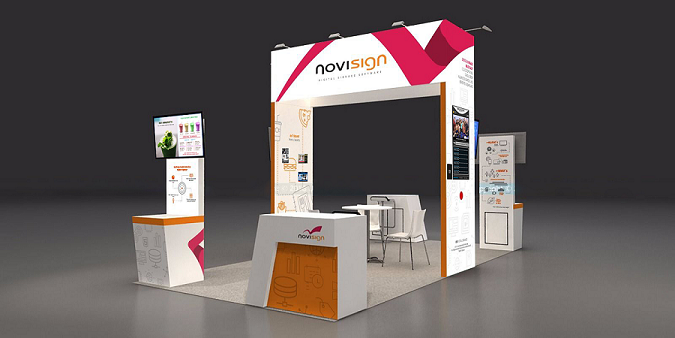 NoviSign Welcomes You to InfoComm 2018!
Your partner for Digital Signage Software. Everything you need to create and manage media-rich cloud-based digital signage easily. 
Overview
NoviSign is your strategic partner for Digital Signage Software. We are known for RELIABILITY & EASE OF USE! Includes over 20 drag and drop widgets; HD videos, dynamic slideshows, weather, Facebook, Twitter, Instagram, RSS, virtual queue, website integration, interactive polls, complete real-time monitoring dashboard, proof play reporting, live player online connectivity, and more. We look forward in seeing you at Infocomm 2018!
Why should I add NoviSign to my list of must-see booths at 2018 Infocomm?
NoviSign believes digital signage must be easy to use yet powerful. Because of this, belief this year at InfoComm 2018 NoviSign will be spotlighting a series of NEW and INNOVATIVE solutions. This year the theme and focus will be around the next-generation of digital signage: IoT!
Facial Detection Digital Signage
In collaboration with LG, NoviSign will show you how you can use facial recognition digital signage to cleverly display media and advertisement based on the audience that is viewing the screen. Items you will learn about include Audience Analytics, Viewer Demographics, and Real-Time Ads.
RFID Digital Signage
In collaboration with SHARP, NoviSign will show you how you can use RFID readers and tags to deliver real-time location-based, notifications, promotions, and other messaging to a digital sign. You will learn how this new technology can be deployed in both Retail Digital Signage and Internal Communications Digital Signage.  From cross-promoting, new products to employee messaging RFID technology is revolutionizing the way Digital Signage can be used!
Interactive Touch Screen
In collaboration with AOPEN, NoviSign will show you how you can use Google Chrome OS touch displays to create touch-screen kiosk content easily! No coding, no HTML5, no extra charges touch-screen license.
Digital Menu Boards
In collaboration with Samsung, NoviSIgn will show you how you can take Digital Menu Boards to the next level with interactive ordering menu boards. From viewing your menu to placing orders using a tablet this new technology for restaurants is engaging, fun to use, and helps restaurants sell more!
Social Media
In collaboration with Philips, NoviSign will show you how you can beautifully incorporate social media into digital signage. From full screen live Instagram media to Facebook galleries to scrolling Twitter feeds you will learn how easy it is to connect your social feed using NoviSign.
About NoviSign
NoviSign has helped over 20,000 clients across 5 continents successfully deploy dynamic digital signage solutions. Some of NoviSign clients include Disney, Ikea, Dole, NASA, Nokia, Ferrari, Papa John's Pizza and more!
NoviSign's Digital Signage Software is sold as Software as a Service (SaaS) that enables the easy management of dynamic digital signage campaigns, from the cloud to IP-based digital signs anywhere in the world. From any PC, you can broadcast targeted messages to any number of signs, at an unlimited number of locations in real-time.
NoviSign is a privately held digital signage software company based outside of Tel Aviv, Israel, with field sales offices in Portugal, Japan, and the United States.
Popular links: