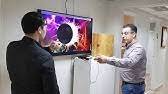 In collaboration with RFKeeper, NoviSign showcased how retail stores can use digital signage and IoT. With a simple integration with RFID tags and NoviSign's cloud-based digital signage software retailers can now trigger targeted advertisements and information.
What is RFID digital signage?
RFID enables you to identify objects using tags and readers. This kind of technology is also know as also known IoT Digital Signage. Let's say you walk into a flower shop and are looking around at the beautiful flowers and plants.
You come across a specific flower and want more information, but no one is around to help you.
With NoviSign and RFID digital signage, you can create a unique experience for your customers, by broadcasting real-time promotions and information to the screens.
If you would like to learn more about that plant, all that you would have to do is place the plant near the RFID reader. Instantly, all information about that plant will automatically appear on the screen.
How does RFID digital signage work?
We have passive RFID tags positioned around the different plants and flowers. If the TAG gets near the reader, the reader will then send an identification to the media player which is connected to the screen.
The identification will interrupt the current playlist and show information about the plant on the screen. Here's an article on how you can connect RFID tags with NoviSign.
It may sound complicated and expensive for you, however, at NoviSign we have made it easy to implements at an affordable price!