Well, we still don't know who won one of the oldest arguments about the size and how much does it matter… We, at NoviSign, are not experts in THAT area, but we do know that when it comes to the size of the screen, it does mater. A lot!
When the digital signage industry 'discovered' the Android based players, mainly thanks to innovative companies like NoviSign, the system integrators had two options – using a player, like Minix or the MK family of devices, connected to a full size standard TV screen, or using a standard size tablet, for small space solutions (bus/taxi, bars, toilets, class rooms, etc.). As the Android technology evolves and becomes more and more acceptable by the Digital Signage industry, the Android devices' size and shape fit much better to the signage required solutions and allow a single-device solution. Android based mega Tablets are already in the market. Combined with a strong software and professional editor, SMBs can find the best fit solution a few clicks away: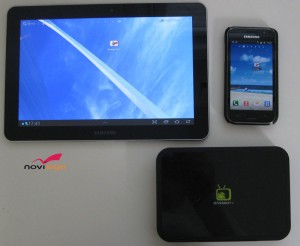 And the price? you'll be amazed – it is very reasonable price for high-end Mega HD tablet with all the pre-requisites for building your own Digital Signage network in the simplest way.
The prices keep dropping and the sizes keep rising. It is one of the best news for Android based Digital Signage implementers – no need to hook any device. Simply remove the wrap for the mega tablet, set up the Wi-Fi, set up the campaign using NoviSign editor, install NoviSign's Android player – and you are up and running!
So the size of your (Android) device does matter. Use it to make the most of for your Digital Signage network.
Rom.