This year NoviSign had an exciting opportunity to take part at Amdocs OSS hackathon and demonstrate how our innovative digital signage widgets can upgrade any competition, company event or business conference. NoviSign's live social walls created a unique interactive environment based on social networks and tremendously upgraded the hackathon experience, otherwise less transparent by nature. NoviSign's interactive widgets added color and interactivity to the event as participants could record themselves working and share their live Twitter and Instagram feeds with the other hackathon teams throughout the world. It was exciting to see this dynamic slideshow made of pictures uploaded by Amdocs participants decorating Amdocs hallways throughout the day.

A Hackathon is a short and intensive software development competition, aimed at producing a 'working software' by presenting full development cycle skills, including design, development, testing, product management and product marketing. Amdocs, one of Israel's biggest global software companies, held a hackathon last week that took place in Israel, the UK and India simultaneously. NoviSign was selected to accompany the competition and provide an interactive, social digital signage 'wrapper'. NoviSign provided real-time content sharing on big screens using social networks (Instagram and Twitter) as well as an interactive voting system for the final stage of the competition.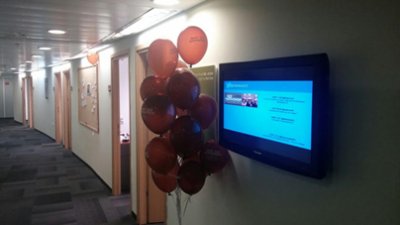 Step 1: Competition Recording
During the competition each team worked in a closed office but if you walked past Amdocs hallways, you could track the progress by looking at a slideshow of pictures generated by NoviSign social walls application. The competitors took pictures of themselves while working and uploaded the pictures to their Instagram account by using the hashtag #OssHton2015. The result was a dynamic slideshow that mirrored this intense day. Because the competition took place at three different continents simultaneously, it was important to allow interaction and connection among the teams.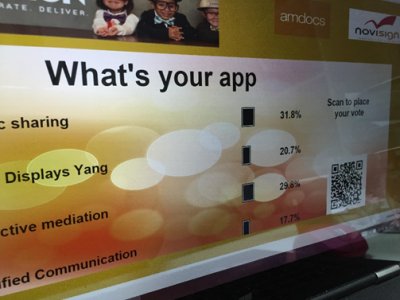 Step 2: The Vote
After a long day of project development, the teams woke up to another exciting day of voting and announcing the winner! This is where NoviSign was instrumental with its poll widget. NoviSign presented its poll widget on a big screen at the auditorium on those three locations. All participants and organizers around the world got an invitation to vote with a QR code. After scanning this code with their smartphones, they were directed to a dedicated website where they were given the option to vote for one of the teams, while the results kept updating online on the screens across all three locations. NoviSign software does not allow two votes by the same person, which made the results entirely accurate, and the announcement about the winner was ten minutes after the polls had been closed.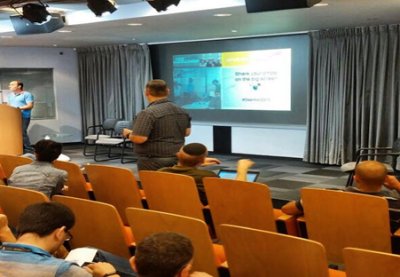 Adding an interactive digital signage to the competition greatly enhanced participant interaction and collaboration. The screens hanged in Amdocs's offices created a fun and an interactive environment and upgraded the experience for all the participants in the competition. NoviSign's digital signage software can benefit each and every screen-based event, with minimum preparation and without a need for ongoing maintenance throughout the event itself.


Want to hear more? Go to https://www.novisign.com/live-social-wall/