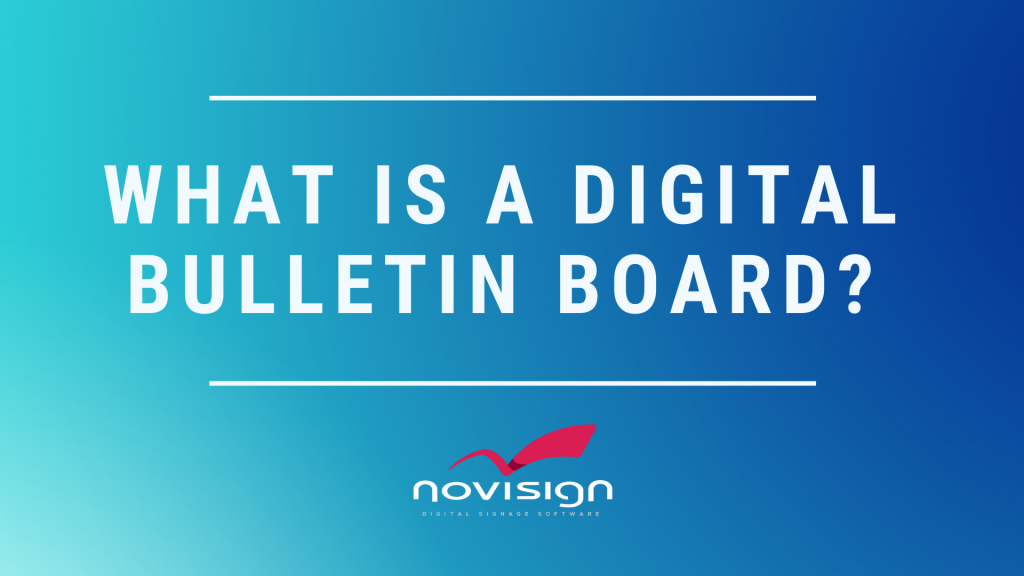 What is a digital bulletin board? Everything you need to know!
A digital bulletin board is a TV that is used for digitally displaying information, notifications and other day-to-day messaging related updates. Digital billboards are useful visual communications tool that can be installed in any high-traffic location.
When it comes down to it, you can use digital bulletin boards to:
Quickly distribute on-the-fly updates to employees

Preschedule custom welcome communications

Recognize employee achievements and birthdays

Spotlight days without accidents and workplace safety 

Share company news, sports and weather updates
And now, the advantages of a digital bulletin board
When using a digital sign board versus a bulletin board features a variety of advantages:
Eco-friendly: eliminate the need to print paper

Save money: reduce printing costs

Flexibility: make updates at any time from any computer

Appealing: videos, tickers, slideshows and motion grab attention
Let's now go over how to setup a digital bulletin board
In general, the process is easy and straightforward. 
1. TV
To get started you will need a TV. Don't worry, any time will work fine and you can use an existing TV. If you're buying a new TV, we recommend going with 46″ or larger. 
A media player is a small form device that connects to your TV via HDMI and connects to the internet via WiFi or hardwire. It is what will play your digital bulletin board content on the TV. 
3. Cloud-based Digital Bulletin Board Software
Digital Bulletin Board Software is what you will use to create, update and manage your digital bulletin board content. From your computer, you will be able to remotely design and send updates to the bulletin board's information. 
Setting up your digital bulletin boards content
To get your information up on the digital board, you will use the cloud-based signage software, like NoviSign.
With NoviSign, you will have access to over 200+ professionally designed templates to help you get started. Corporate and internal communications, employee updates and lobby layout templates are just a few types of digital bulletin board-style templates that you can choose.
Using the widgets, you can easily insert and customize your content/templates. Slideshows, videos, YouTube, RSS feeds, tickers, weather, websites, Google Slides and images are all examples of widgets that you can add to the digital bulletin board content.
After you've got your templates setup, you will need to setup your digital signage playlist. The playlist is the templates that you want to play on the digital bulletin board. You can set the templates to simply rotate through, play a single template and even preschedule templates to play on specific times.
Digital Bulletin Board Conclusion
Now that you understand the basics of digital bulletin boards, it's time to get started! You can try NoviSign's cloud-based digital bulletin board software free for 30-days!