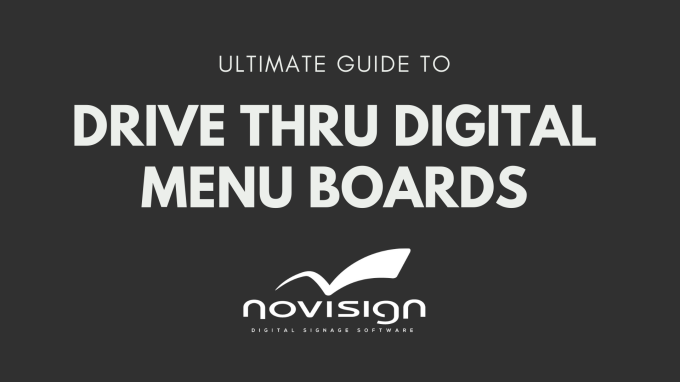 Every day more and more fast-casual and fast-food restaurants are upgrading their outdoor menus to digital. Why? Well, for starters, let's first cover the benefits of drive-thru digital menu boards:
Brighter and easier to see at night and day
Preschedule dayparting menus; breakfast, lunch, dinner, specials
Add videos and slideshow promotions
Generate a modern brand image
Remotely update from any computer
Click here to request more information about outdoor menu boards
Types of outdoor drive thru digital menu boards
When it comes to outdoor digital menus, you will typically see three variations; single, double or triple screens. The drive-thru digital menu boards are most commonly mounted on one post and feature outdoor rated cabinets that high-brightness commercial grade screens are mounted in.
Why do I need outdoor-rated hardware?
Drive-thru outdoor menus are much more than a TV inside of an enclosure.
Outdoor digital menu boards need to be designed and built to withstand the elements. A reliable and well built outdoor digital menu board features:
Minimum 2500 NITS High Brightness display
Anti-reflective display coating
IP55 Aluminum Enclosure with Ventilation
Integrated heater and cooling system
Built-in media player
What type of drive-thru digital menu board should I get?
To best answer, your question, start with how many items you have on your menu. If you are looking to have a visually balanced menu that features your menu items with a section featuring food images, we recommend listing no more then 15-20 items per TV.
With that being said, we usually have restaurants go with 2 or 3 screens per drive-thru digital menu board system. The most common screen size is 55″.
How do I update the outdoor digital menu boards?
You will need the media player inside the outdoor digital menu board cabinet to be connected to the internet via WiFi or hardwired. By having it connected, you will be able to remotely update the drive-thru digital menus from your computer using NoviSign's digital menu board software.
What is digital menu board software?
Digital menu board software gives you the tools needed to design, edit and remotely update your drive-thru digital menus. With NoviSign's software, you will create your menu and get it on the screens.
How do I design the outdoor menu board?
Using the included customizable digital menu board templates, you can insert your menu items, descriptions, prices, images and other media. Once you have the menu's made, you can preschedule them to play then send them to the drive-thru digital menus.
Are you looking to learn more? Please send us an email: info@novisign.com!