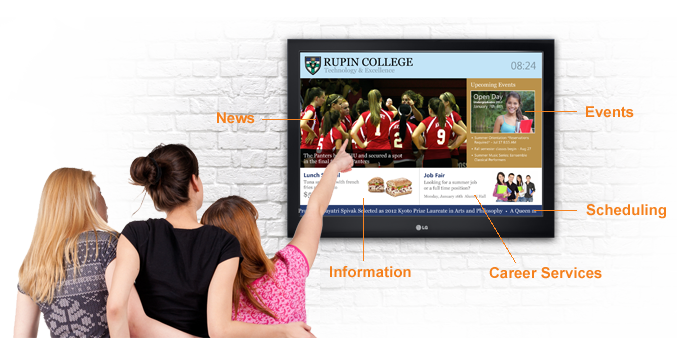 Examples of use cases include:
Emergency information – Post both emergency messages as well as protocols for fire, accidents or other threats to the campus population.
Scheduling– Inform of changes in class schedules, cancellations and other information about schedules.
Events – Focus your messages: display them precisely at the right time and automatically pull advertisements when the event has taken place.
Events – Deliver up-to-date campus news, as well as real-time traffic, weather and community updates.
Career services – Post announcements about job fairs, career services and open days.
Welcome notices – Make special guests (alumni, corporate visitors, government representatives, and honorary guests) feel welcome by displaying special welcome notices.
With digital signage, you can use each screen in a flexible manner, both splitting the information on a single screen (weather, traffic and news feed on one side, next to main part of screen), as well as cycling through multiple messages. Messages can be automatically scheduled for a certain time and shown at specific hours of the day.
In this age of smartphones and Internet-savvy students, the added interactivity and attractiveness of a digital display will raise the chances that messages will be seen. QR codes and short links for Web sites can be used so viewers can pull up information on their own smartphones.
At NoviSign, we are proud our application is installed in academic institutions worldwide and we call on your school to join us at a special academic rate. Do not wait; start innovating now at your school. Contact us for more details about our special plan for academic institutions.
Learn more about digital signage for Academia. Look at our case study of Ohalo or at the case study of Claremont day school from the UK.