With NoviSign, you can use any Android-based device as the player for your digital signage screen. NoviSign is an Android-based Digital Signage player, so you do not need a proprietary hardware player unit, which often costs between 300 and 900 USD; a Google Android TV box costs much, much less. NoviSign suggests you take any off-the-shelf Google Android box, connect it to the TV, and start your digital signage campaign. With a link sent to the TV box, you can play a signage campaign sent from the NoviSign server with no need for any special player software.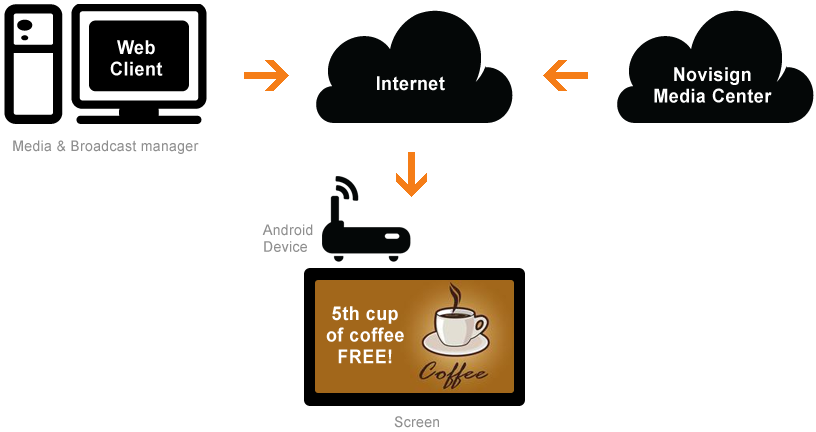 All you need to do is to get an Android-based system device, open the NoviSign link player on it, and, immediately, all the media to display on your screen will flow to your Android device. What you need is:
1. 

Power for the box

2. 

Internet network connection (via LAN cable, WiFi or cellular)

3. 

Android box connection to the screen. Use HDMI, VGA, or RCA component   depending on the Android box manufacturer you have chosen.

4. 

To control the box most of the time, a mouse is sufficient. Alternatively, you can use the remote control that comes with the box.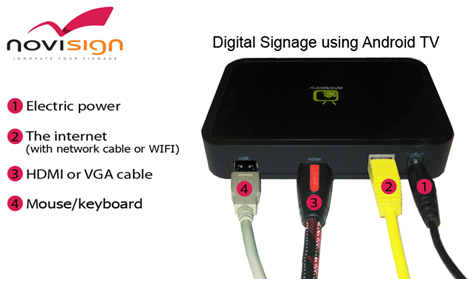 After you have connected the device, power it on to see the Google OS screen Android OS or Google TV OS, depending on the type of box.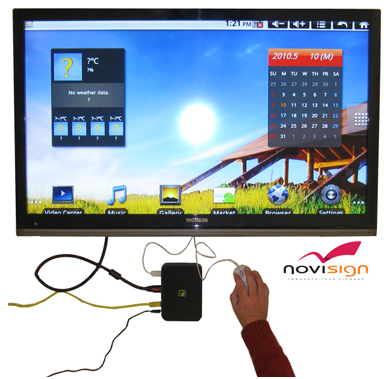 The short clip below is an additional aid to guide you step by step on setting up a screen for NoviSign digital signage using an Android box. In the clip, the box is connected to the TV via HDMI cable and to the network via LAN cable. Running NoviSign link or app on the box downloads the content from the NoviSign cloud-based server and presents it on the screen.
Find out more about our Android solution.
You are welcome to learn more about our app for the Google Android platform at the following link: Android digital signage app
See how NoviSign can run on any Android device and make a difference: Android devices tablet/phone/TV Digital Signage
See list of Android TV devices that can be used as digital signage players: Android TV box
Android-based digital signage explains more about the devices and connection needed.
Please feel free to contact us for any question on Android-based digital signage at info@novisign.com.