No one have seen anything like it. No one really knows how it will end and we all understand that thousands of studies are still to be published on the chain of events of the Coronavirus outbreak, the ways that governments handled it and the clearly super dramatic impact on the global economy. And derived from this, the impact on the local and micro economic impact on each one of us.
After more than a decade in the Digital Signage domain, it is vividly clear to us at NoviSign, that Digital Signage technology, can, must be and obviously will take a significant role as one of the tools that small and medium business will harness to adopt to new rules and regulations that will clearly be part of the slow and gradual steps that governments will take to climb out from the current stagnation.
Digital Signage Software that in fact runs the Digital Signage operation, combined with IoT capabilities is equipped to enforce and measure governmental regulations, support the customers passively and actively, provide real-time information and help the business owners to operate under new and unknown conditions.
Just few examples for digital screens at the entrance of the business:
Business occupancy counter (Masking sure the number of people does not exceed the allowed number).
Queue Management lines outside of the store.
Immediate Temperature measurement.
Zoom broadcast and direct support for customers outside the business (maybe they need only a short question?) – ask us about how to combine Zoom in your Android digital signage unit.
Reminders of Coronavirus social distancing, hygiene and recommendations.
Info on the brand/store.
Gel units with Broadcast Kiosks (digital signage hand sanitizer – see the "NoviTizer") to provide Service while communication with the customers.
These are merely the tip of the iceberg of the almost endless possibilities that digital signage can do to support your small and medium business post Corona, and what is expected to be a long "Back to Business" period.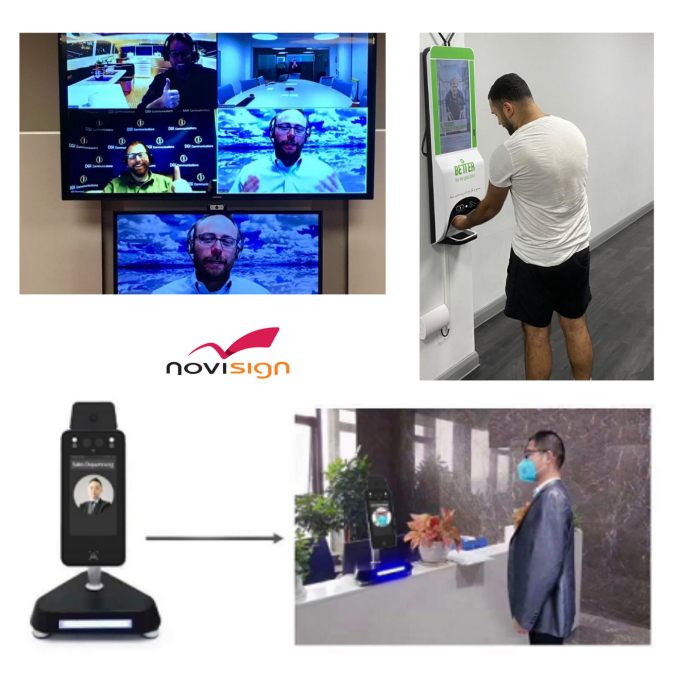 Stay safe, healthy and no less important – smart, fast and innovative!
Good luck,
Chad.