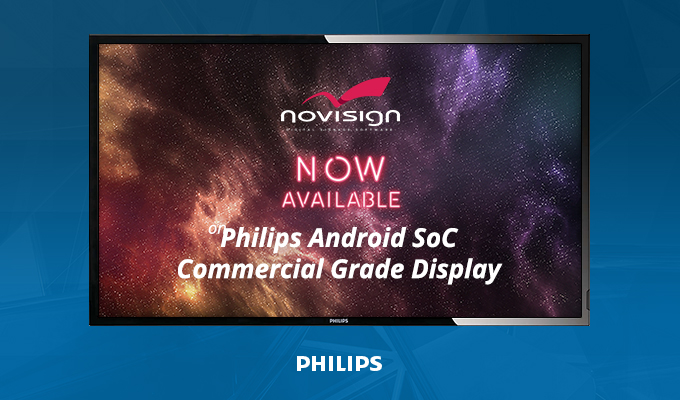 NoviSign Digital Signage, the global leader in feature-rich, easy-to-use digital signage, today announced that NoviSign's Digital Signage Android app is now available on Philips Q, D, P & T-Line Android SoC displays.  Starting at 10" and going all the way up to 86" Philips Android SoC displays, come in both 18/7 and 24/7 usage ratings. Available for direct download onto Philips SoC displays via the built-in AppStore. NoviSign's cloud-based digital signage software makes designing and managing digital signage content easy, effective and reliable.
"Because NoviSign is one of the world's few digital signage software vendors that offer a true Android app that is native and supports offline play, we've seen more and more applications embrace Philips SoC with NoviSign for digital signage deployments," said Chad Bogan, Director of Sales and Marketing at NoviSign. "The overall OS stability of Philips SoC is outstanding. From digital menu boards to corporate communications, the NoviSign and Philips SoC is a stable high performing solution."
Everything You Need for Digital Signage
With NoviSign's web-based free-form design Studio, users can remotely create, edit and manage the kiosk's content. With over 20 drag-and-drop widgets to choose from, users can quickly design media rich content that is engaging and informative. Use NoviSign to:
Display Instagram, Twitter and Facebook feeds
Incorporate YouTube channels or stream via Ustream
Integrate data-driven polls
Add interactive games to the content
Insert videos, HD images and slideshows
Inform with RSS, custom tickers and weather
Create touch screen wayfinding directories
Advanced playlist creation and scheduling
Remotely monitor the display and player status
Run granular proof-of-play reports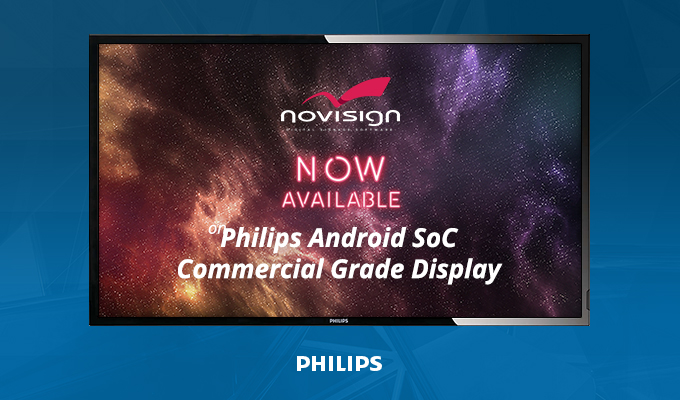 About Philips
Philips Professional Display Solutions (Philips PDS) is a business unit that exclusively markets and sells Philips Professional TVs, Signage Solutions and monitors worldwide. Thanks to our parent company's display-manufacturing expertise and Philips' expertise in customer-centered design, Philips PDS is able to focus on bringing innovative products quickly to market to meet the complexities that our customers demand. Philips PDS is headquartered in Amsterdam, Netherlands, but has presence and reach globally.
About NoviSign
NoviSign has over 20,000 active screens across 5 continents successfully deployed running dynamic digital signage solutions. Some of NoviSign clients include Disney, Ikea, Dole, Home Depot, NASA, Nokia, Ferrari, Papa John's Pizza and more! NoviSign is a privately held digital signage software company based outside of Tel Aviv, Israel, with field sales offices in Portugal, Japan and the United States.