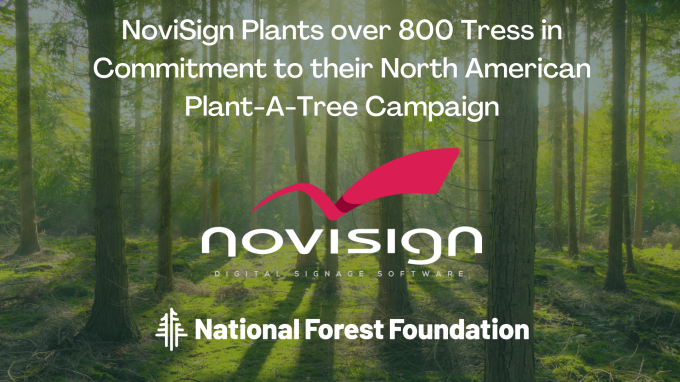 NoviSign is planting more than 800 trees in National Forests across the United States as part of our Plant a Tree campaign. These trees are planted in areas that need to be repopulated with trees.
NoviSign Digital Signage, a global leader in digital signage software, plants over 800 trees with the help of the National Forest Foundation to reduce carbon emissions.
Planting a Seed for a Brighter Day to Come
If you want healthy forests for future generations, all you have to do is plant trees now. NoviSign's Plant-A-Tree campaign intends to plant trees from Florida's longleaf pine forests to Alaska's cedar groves.
The best way to cut down on our carbon footprint is to use our forests as natural carbon sinks (CO2). In addition, healthy forests can be an excellent help for climate change mitigation and adaptation.
Cities like Los Angeles, Atlanta and Seattle and tens of thousands of others rely on their local watersheds to stay alive and many are in danger. As people help plant the trees, they will also help fight climate change and provide habitat for wildlife.
All about NoviSign
Businesses and organizations of any size can use NoviSign Digital Signage, a cloud-based digital signage platform. NoviSign Digital Signage lets you control and change content on any display, tablet or kiosk from anywhere. The Walt Disney Company and the Papa John's Pizza Company are just two of NoviSign's many clients.
NoviSign's online Studio is a complete web-based digital signage program that lets you design digital signage that looks good. Over 25 drag-and-drop widgets make it easy to make and manage visually appealing content.