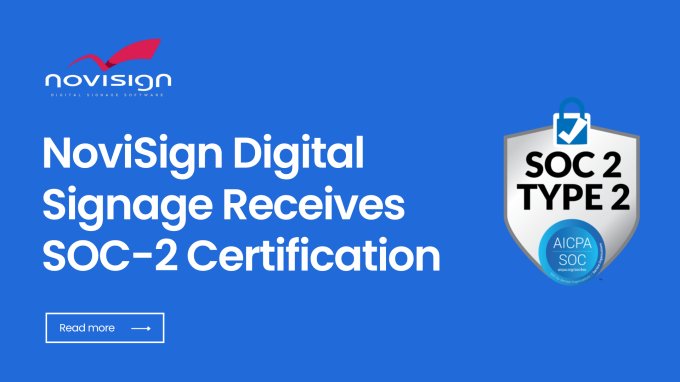 NoviSign Digital Signage is proud to announce that it has earned SOC-2 accreditation, confirming its dedication to providing customers with the leading safe, reliable, private and secure service. In addition, this accreditation reflects our commitment to protecting our client's personal information.
What does SOC 2 certification entail?
The SOC-2 framework, created by the American Institute of CPAs (AICPA), is a globally accepted security compliance standard for SaaS businesses. The achievement of this certification highlights an organization's dedication to establishing and maintaining reliable information security measures.
To comply, NoviSign had to pass a technical audit verifying that the company has established and strictly adheres to thorough security measures and processes, including the 5 Trust Services Principles (TSP) defined by the Assurance Services Executive Committee of the American Institute of Certified Public Accountants (AICPA). This audit was required for NoviSign to comply. The five guiding principles are privacy, data protection, security, availability and data processing integrity.
Conclusion
Having passed the SOC-2 audit shows that we have created and implemented controls and processes that are up to par with or better than the standards set by our industry. Furthermore, it guarantees our clients can trust us with their private data because we take security seriously.
NoviSign Digital Signage is dedicated to maintaining the best standards of service and safety for our clientele. To get there, getting SOC-2 certified is a must. We will continue investing in our security and compliance initiatives to keep our accreditation and enhance our customer service.
Chad.