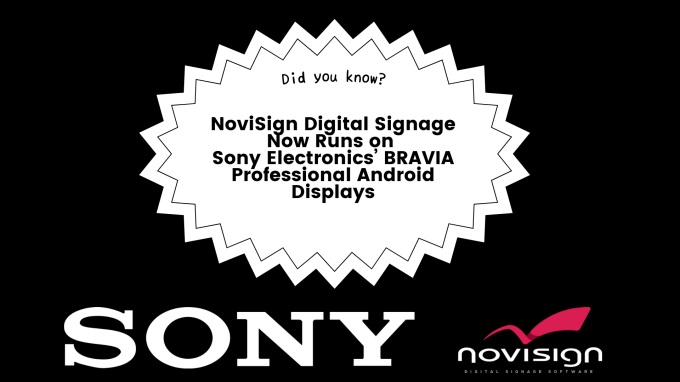 The pioneer of Android Digital Signage, NoviSign, has announced that the NoviSign Android Digital Signage App is now available for all Sony BRAVIA® Professional Android-based screens. Sony's professional BRAVIA series can run both 4K and HDR has a system on a chip platform and comes in sizes from 32″ to 100″ wide.
Suppose you want to use NoviSign's cloud-based digital signage software. In that case, you can download it directly to any Sony professional BRAVIA Android-based display and use it to make and manage your digital signage content.
"Sony BRAVIA Professional Displays have bright, super-bright HDR images and 4K resolution will make your content look stunning," said Chad from NoviSign. "As a whole, NoviSign and Sony will give you an easy-to-use and safe cloud-based digital signage solution that is reliable, scalable and powerful."
Manage from Anywhere
NoviSign's web-based free-form design Studio lets users create, change and manage all of their content from anywhere. It has over 25 drag-and-drop widgets and more than 200 fully customizable templates. Users can quickly and easily make media-rich, multi-zone content layouts that are visually appealing and appealing. do the following things:
Include Instagram and Twitter feeds are shown in real-time
Stream videos from YouTube and Ustream
Add slideshows, high-resolution photos and slideshows
Include scrolling RSS feeds, custom tickers, and weather updates
Set up wayfinding and digital directory displays
Create advanced playlists with a start, end and recurrence schedules
Monitor the player status from afar and make detailed proof-of-play reports
About NoviSign
NoviSign has helped client with over 50,000 screens across 5 continents successfully deploy dynamic digital signage solutions. Some of NoviSign's clients include Disney, Ikea, Dole, Home Depot, NASA, Nokia, Ferrari, Papa John's Pizza and more! NoviSign is a privately held digital signage software company based outside of Tel Aviv, Israel, with field sales offices in Portugal, Japan, France, Germany and the United States.