Digital Signage for High Schools: A Better Way to Broadcast Your Notifications
"Novisign's Digital Signage for High Schools is exactly what we needed in our High School to display the news and information that we needed to put out to students. This product is awesome and very easy to use for most people. I had a few questions when setting up some of my templates, and I was able to get assistance immediately and I was up and running within 15 minutes."
– Adrian Ramos, IT Instructor at Elgin High School
NoviSign's Digital signage offers campuses a dynamic platform for quickly sharing a wide range of communications with students and staff. Using NoviSign's all-in-one digital signage for schools users of any background can easily create, update and manage screens for any application.
The beauty and power of digital signage for high schools comes down to flexibility. Because the content is being shared and updated digitally you can virtually display anything on any display at any time. From basic school news all the way up to important announcements, you can use digital signage for high schools as your primary vehicle to easily share on-demand information and media.
School Lobby & Gathering area
Encourage engagement while spotlighting critical daily messaging by displaying a combination of on-demand relevant information. Digital Signage for high schools is the right solution for getting your students and visitors the right information at the right time.
Class Schedules
Use digital signage for high schools to display lists of daily scheduled events and classes. In addition to class schedules, you can use digital signage for high schools to promote upcoming events such as open houses, parent-teacher conferences, upcoming testing dates and more.
Staff Communications
Enhance the way you disseminate faculty news and announcements using digital signage for high schools. Share internal notifications, bulletins and scheduled meetings.
Social Media
Add your Twitter, Facebook, or Instagram feed to the sign. Stream real-time updates on the screen. Feeds can be set-up to display images with the description, custom Twitter scrolling ticker, combination feeds that feature multiple social media streams and more!
Emergency & Safety
Display safety related notification messages and videos plus NoviSign enables you to broadcast emergency messages to all screens with one-click.
Google Slides
Add a zone that is synced with and displaying your Google slideshows (presentations). When you make an update to your slideshow it will sync with the sign automatically.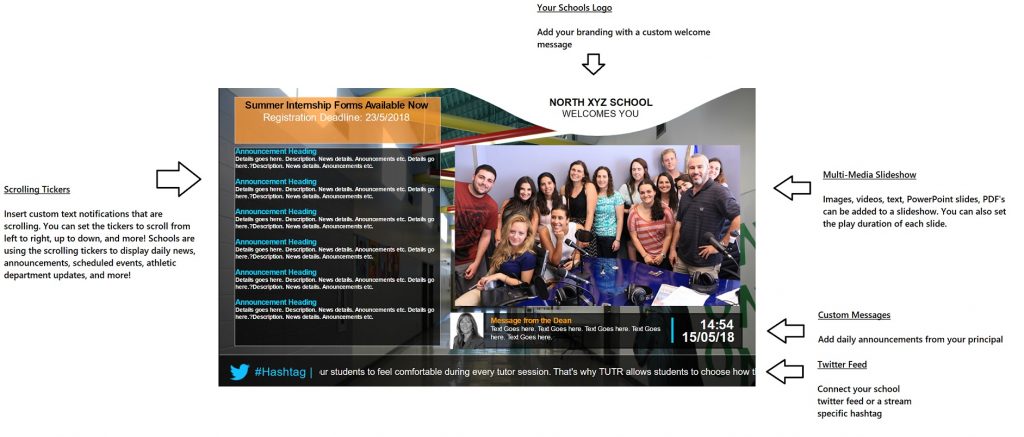 About NoviSign's Digital Signage for High Schools Software
NoviSign provides easy-to-use Digital Signage Software for High Schools. The software is cloud-based, includes a wide variety of drag-and-drop widgets. These widgets can be used to create your digital signage for high schools content. Popular widgets include multi-media slide show, HD videos, scrolling tickers, RSS news feeds, social media streams, weather forcasts, Google Slides, website integration, and interactive polls. NoviSign Digital Signage for High Schools runs on Chrome OS, Android or Windows-based media players.
Included with the software is a series of professionally designed digital signage for high school templates. All of the templates can be easily customized. In addition to the templates, users can preschedule slides and content to automatically play on specific dates and times. Within two minutes of making a change, the new content will wirelessly update on the sign.
Also included with NoviSign Digital Signage for Highschools is a reports and monitoring dashboard. This allows you to view the status of each display, what playlist is assigned to it, when the display was updated last and what user made the update. This dashboard is a great monitoring tool that makes viewing the status of all your high school digital signs easy.
Pricing starts at $20 a month per screen and we do offer special discount pricing for high schools.
Related Links