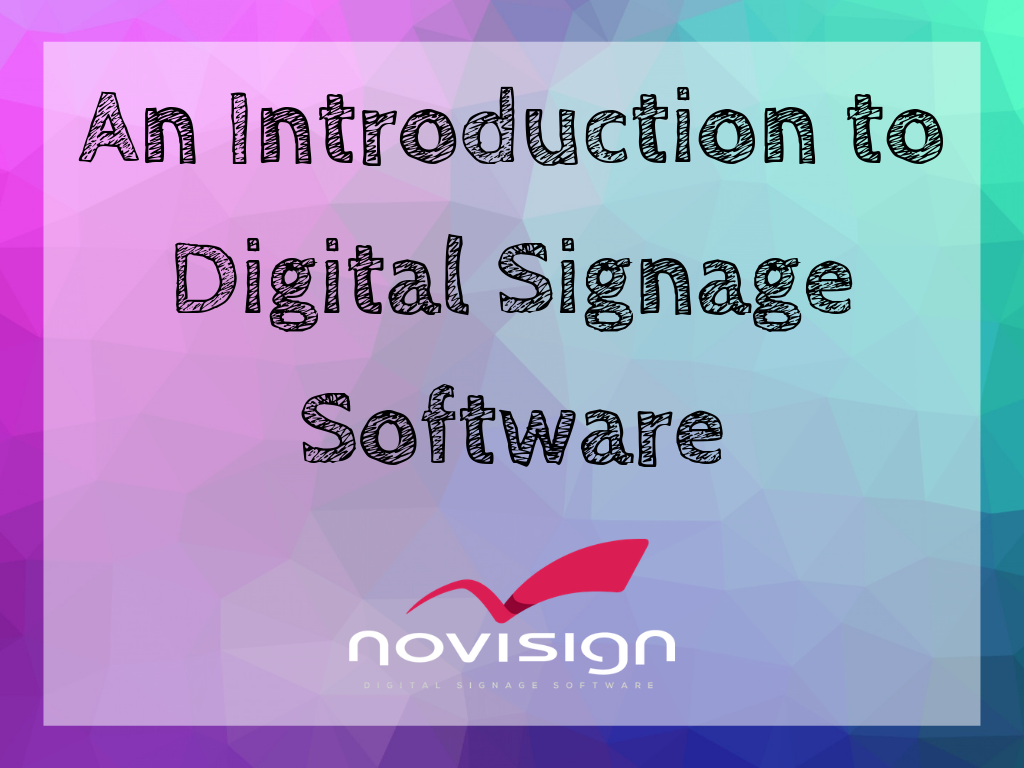 Everywhere we go, screens are seen and being used. From digital menu boards at restaurants to screens in corporate buildings, displays and digital signage software is being used to reach, engage and visually communicate with customers, patients, employees and patrons.
But how do we get these messages to the screen? It's called digital signage!
So what is digital signage?
Because you're reading this, you've probably already done some Google Searching on digital signage and come across some fancy websites with well-written marketing mumbo jumbo that sounded perfect, but you didn't quite understand the technology side of things so continued to look for new solutions that were easier to understand and use.
Or maybe you signed-up for several free digital signage trials but discovered that the systems were clunky and hard-to-use. With so many options out there, it has become more and more challenging to find the perfect digital signage solution that is secure and feature-rich.
Welcome to NoviSign
A complete cloud-based digital signage software solution that gives you all the tools you need to create, update and manage the content of any screen from any computer, at any time, from anywhere. 
From your computer, you can create the perfect layout and send it to your screens. To make things better a complete library of over 200 stunning professionally templates are available to choose from and customize, or you can create something from scratch. Templates are available for virtually any use case; menu boards, corporate communications, waiting rooms, schools, retail stores and more!
Powerful drag-and-drop widgets
When it comes to creating content is couldn't get any easier using the 20+ drag-and-drop widgets! All of the widgets are included for free plus are super easy-to-use, add and customize. Popular widgets include: 
Media slideshows with images and videos

Scrolling tickers, news feeds and text

Instagram, Facebook and Twitter feeds

YouTube and Google Slides

Current and upcoming local weather

Time, date and clock
Easy playlist creation and scheduling
When it comes to creating schedules and playlists, you have total control and flexibility with NoviSign. From setting essential template rotation durations to scheduling recurring programs and or expiration dates for specific pieces of content you can do it all using NoviSign's advanced playlists.
Remote tracking and data
For monitoring and analytics, NoviSign's cloud-based digital signage software also comes with a reports dashboard that allows you to view the status of your entire network of screens, connectivity status, what playlist is assigned to each screen, the time of the last content download, run proof playlist reports and more! This tool makes the process of monitoring your screens straightforward and efficient.
But wait there was more!
If your looking to add fun and engaging zones of content to your screens content NoviSign natively supports a wide variety of widgets and configuration options that will give you that extra edge in your visual communications strategy:  
Live TV
Polls and surveys
Real-time games
IoT, RFID and Barcode connections
Outlook Calendar Feeds
Touchscreen wayfinding
With NoviSign, the possibilities are unlimited. From creating an advertising network to increase sales to building your brand awareness to better connecting with employees, NoviSign is your single source for cloud-based digital signage!
Give it a try today and join the thousands of customers that are using NoviSign to control the content for their screens remotely.
No credit card is needed to sign up for their free 30-day trial, and no commitment is required.
White label partner programs are also available.
Start now: https://www.novisign.com/registration/