Doctor Office Digital Signage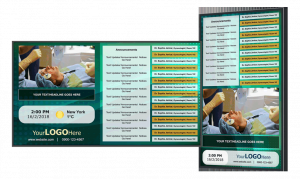 Signage is an essential part of the day to day experience for your patients. From being able to easily view a directory listing of your doctor office locations and doctors, to the ability to see new patient registration policies, doctor office digital signage can play an integral role in creating a memorable experience for your patients.
You can use doctor office digital signage to help to improve your doctor office's brand and public perception. By consistently displaying your logo and other branding requirements, you will re-emphasize your professional reputation.
Digital signage for your doctor office can also be used to improve user experiences. Doctor office digital signage can be placed in lobby's for wayfinding, used to share relevant information, estimated wait times and even be used to share fun and entertaining videos and health facts.
Your marketing department can use doctor office signage to better spotlight new promotional messages, public charity recognition, fundraising and other community sponsored events.
About NoviSign Digital Signage
NoviSign is known for RELIABILITY & EASE OF USE! Includes over 20 drag-and-drop widgets, HD videos, dynamic slideshows, weather, Facebook, Twitter, Instagram, RSS, virtual queue, website integration, interactive polls and more. NoviSign also includes a complete real-time monitoring dashboard for easy tracking of screens/media players. Proof-of-play reports, live online connectivity and more.
Price starts at on $20/month and includes full support and training
Runs on Chrome OS, Android & Windows!
Related Links: