Waiting Room Digital Signage
Use Digital Signage to Welcome and Communicate with Your Patients
Create a Better Waiting Experience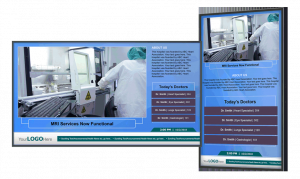 Digital signage for waiting rooms in doctor offices, clinics and other medical practices are a great way to reduce the perceived waiting times for your patients. You can use waiting room digital signage to educate and entertain:
Provide warm, welcoming messages
Cover registration and new patient check-in instructions
Add a list of anticipated wait times
Spotlight doctor biographies, images and other staff related information
Spotlight scrolling feeds of exciting health tips and news
Add your organization Twitter and Facebook feeds
Improve the Way You Visually Communicate
Utilize a combination of vibrant graphics, HD videos and engaging slides for your waiting room digital signage. By adding rich, informative content, you will help reduce perceived wait times while ensuring patients and staff reliably see your most important messages.
Medical facilities are also using waiting room digital signage to:
Broadcast vital staff related message, bulletins and news
Emphasis branding by incorporating brand colors and logos
Save money on printing new signs
About NoviSign Digital Signage
NoviSign is known for RELIABILITY & EASE OF USE! Includes over 20 drag-and-drop widgets, HD videos, dynamic slideshows, weather, Facebook, Twitter, Instagram, RSS, virtual queue, website integration, interactive polls and more. NoviSign also includes a complete real-time monitoring dashboard for easy tracking of screens/media players. Proof-of-play reports, live online connectivity and more.
Price starts at on $20/month and includes full support and training
Runs on Chrome OS, Android & Windows!

Related Links: