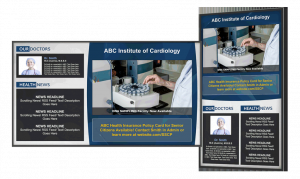 Digital Signage for Medical Clinics is an efficient and dynamic solution for improving the way you disseminate information throughout your facility, waiting rooms and lobby. Clinics are using digital signage to:
Promote new services and sales
Share necessary insurance information and policies
Spotlight seasonal wellness tips
Provide health-related news and videos
Health sensible kids programs and healthy eating tips
Enhance the Way You Communicate with Staff
Medical clinic digital signage can not only be used for your patients but also your staff! By placing digital signs strategically in your clinic breakrooms, cafeteria and staff stations, you are gaining a valuable opportunity to communicate with your staff.
Display general occupancy information of patient and operating rooms
Share new policy information, training procedures and reminders
Spotlight employee of month, recognition and birthdays
Disseminate emergency notifications and alerts
About NoviSign Digital Signage
NoviSign is known for RELIABILITY & EASE OF USE! Includes over 20 drag-and-drop widgets, HD videos, dynamic slideshows, weather, Facebook, Twitter, Instagram, RSS, virtual queue, website integration, interactive polls and more. NoviSign also includes a complete real-time monitoring dashboard for easy tracking of screens/media players. Proof-of-play reports, live online connectivity and more.
Price starts at on $20/month and includes full support and training
Runs on Chrome OS, Android & Windows!
Related Links: