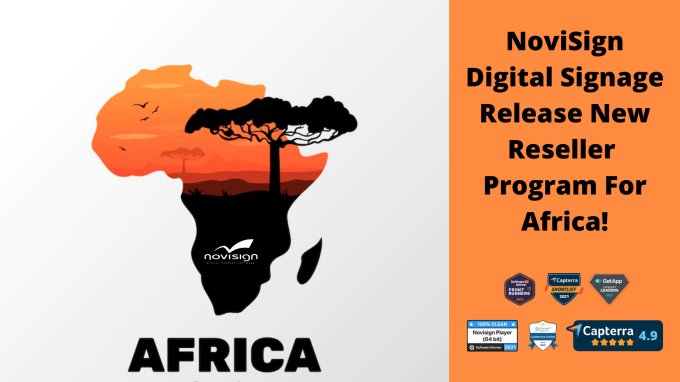 In response to the growing demand for digital signage in the African market, NoviSign Digital Signage has launched a new digital signage white label partner reseller program. NoviSign partners will gain access to the tools they need to market, educate and aggressively sell digital signage systems that are cost-effective, powerful, visually appealing and simple to operate.
"End users, integration partners, and other value-added resellers expect simple digital signage solutions," said Roey Ohana, a representative from NoviSign. "Digital signage software must be straightforward to use." "Finding the most appropriate digital signage system has been a challenging, time-consuming, and complicated endeavor up until now. This has led us to simplify digital signage and provide a complete white label digital signage solution that provides partners with everything they need to successfully sell digital signage."
Cloud-based digital signage software that includes everything you need
Digital signage software design Studio is an online tool that is easy to use and was built with the newcomer in mind! For example, NoviSign's digital signage software is designed in "layers," starting with a simple image/video campaign and progressing to numerous different combinations of photos, videos, scrolling static text and other elements.
Other cutting-edge widgets include those from social media sites such as Twitter and Instagram, as well as those from YouTube and Ustream, as well as those from touchscreen games, polls and a virtual queue, among others.
Features:
A fantastic collection of digital signage widgets
Nativa integrations with CANVA for stunning content design
A collection of modifiable template designs is available for download
Create social media walls featuring Instagram and Twitter
LiveStreaming of UStream, YouTube and M3U8 feeds
Set up playlists with scheduling
Admin user management console
Cloud-based media library
RFID and barcode integrations are possible
About NoviSign
In addition, NoviSign is a cloud-based digital signage software solution provider with more than 50,000 screens installed on five continents worldwide. Disney, Ikea, Dole, Home Depot, NASA, Nokia, Ferrari and Papa John's Pizza are just a few of the clients.
An extensive support and training portal, including step-by-step training videos, frequently asked questions (FAQs), comprehensive technical documentation, phone help and online webinars, is also offered with NoviSign's software platform.