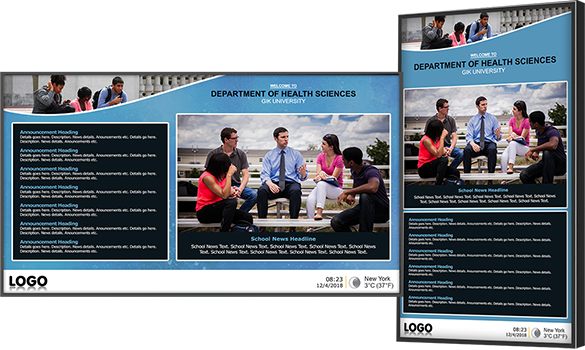 The Benefits of Digital Signage for College Campuses
Digital Signage for colleges can bring a new level of enhanced communications to your school. Digital Signage for colleges allows users to remotely edit, update and manage the content for any screen that is located on your campus. When using college digital signage, you can create an unlimited amount of unique templates that can be application specific and designed around the needs of your viewing audience.
NoviSign's digital signage for colleges makes it easier for campuses of any size to reach students, staff and visitors with vital information, on-demand campus bulletins, class schedules, news and more! Using the included drag and drop widgets users can create dynamic zones that feature:
Real-time campus news and announcements
Event listings and area special events
Athletic news, scores and highlight videos
Campus maps and professor digital directory listings
Course information and class listings
Alumni and donor recognition
Application Examples of Digital Signage for Colleges
Building Entrances and Exits

Welcome new students, alumni, and visitors with campus digital directories that spotlight maps and campus event listings

Common Areas

Install digital signs in high-traffic areas of your school to ensure your messages are seen
Share essential school announcements, news, emergency alerts and more!

Eating Areas

Use digital menus and share nutritional information

Library

Make it easier for students to helpful resources, show available work areas and promote upcoming book releases

Computer Labs

List available workstations and when the next station is available

Bookstores

Sell more books, upsell merchandise and spotlight new promotions and sales

Campus Housing

Welcome students, promote campus events and share the athletic news
NoviSign's Digital Signage for Colleges
Using our digital signage for colleges, you will be able to create media-rich digital signage content for your college. By using the built-in drag-and-drop widgets; images, HD videos, vibrant slideshows, RSS feeds, scrolling text tickers, virtual queues, touchscreen, interactive polls, web pages, Facebook and Twitter feeds, YouTube streams and much more, you will be able to create beautiful and dynamic digital signage content!
Product Benefits:
All-In-One: 20+ drag-and-drop widgets, scheduling, reports dashboard and device monitoring
Cloud-Based: No server management, no complicated software installation, no IT headaches
Widgets: scrolling news, text, slideshows, HD videos, weather, social media, YouTube & more
Template Library: customizable templates for menu boards, educations, hospitals and more
Scheduling: create playlists, preschedule content, add expiration dates and more
Reports Dashboard: monitor device status, run proof of play reports, media statistics and more
Great Support: step by step training videos, user manual, phone training and email support
Work with the best!
Since 2007, NoviSign has helped over 750+ educational organizations successfully deploy digital signage for colleges, K12, school district, technical schools and more. Some customers include:
Albany Area Schools
Auburn School District
Bancroft School
Belvidere School District 100
Bradford High School
Branford Schools
Brookwood School
Buckeye Valley Local Schools
Chafyn Grove School
Shanghai American School
Chase County Schools
Claremont School
Coates Way School
Colts Neck Township School District
Culver City High School
Culver City Unified School
Edinburgh Community Schools
Edison Township Public Schools
Galway Central School
Godwin Heights Public Schools
Groton Central School District
Hadley-Luzerne Central School District
Hopatcong Borough Schools
Hopkins School
Housatonic Valley Regional High School
Immanuel Lutheran School
Inter-Community School Zurich
Katy Independent School District
Kenai Central High School
Kenosha Unified School District
KPBSD – Nikiski Middle High School
Lawson School R-XIV
Mechanicsburg Exempted Village School District
Morris Area Elementary School
New Visions Charter High School
Advanced Math & Science IV
Oconto High School
Oconto Middle School
Patterson High School
Patterson Unified School District
Pikeville High School
Pine Rivers State High School
Prairie Grove High School
Prairie Spirit School Division
Private Christian High School
Republic Schools
Salinas City Elementary School District
Sauk Prairie School District
Sayre Public Schools
Selby High School
Shioc School
Mildred's-Lightbourn School
Paul Public Schools
Stillwater schools
The Sterling Hall School
Unified School District No. 337
Vance County Schools
Vista Unified School District
Washington Middle School
West Long Branch Public Schools
Claremont College
Dalton State College
College Pickering
Plymouth College of Art
Roanoke College
Pimpama State Secondary College
Whitney University
Kasetsart University
University Credit Union
Related Links: