More and more colleges, technical institutions, universities and other higher education institutions are turning to digital signage for colleges to streamline the way they communicate and share information.
The benefits of using digital signage in college are many, and for full effect, digital signage for colleges is being used in campus building lobbies, student lounges, libraries, athletic facilities, cafeteria's, classrooms and corridors.
Digital signage for colleges is not something new, but rather is finally become affordable for higher education. With Chrome OS and Android media players the cost of hardware has significantly come down and the ability to remotely manage content has become much easier using NoviSign cloud-based digital signage software for colleges.
Now the splendor of digital signage for colleges comes down to the ease of use and quickness in which of you can setup content. Gone are times of having to print out signage or update bulletins boards. Using digital signage for colleges, you can digitally update announcements, images, news and other content from your computer at any time from anywhere. All changes that you make are wirelessly sent to the digital signs on your campus. Within minutes of making a change, the digital sign will update!
Let's now look at 6 ways colleges are using digital signage today!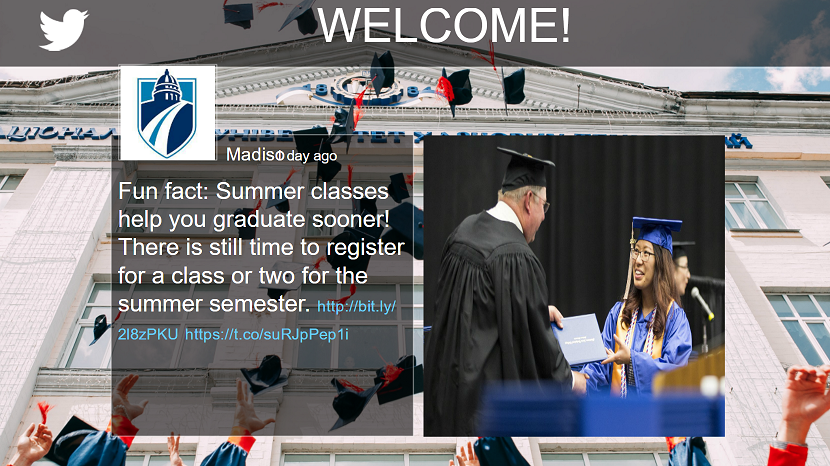 1 – Department Social Media Feeds
Students attending college today are part of a new generation that of have grown up with social media and have come to embrace it. By adding social media streams to your college's digital signage you creating a visually appealing experience for students that will keep them engaged with the screens.
With the various department specific social media feeds, each professor can post new content, an issue on the fly updates and lesson plans to the social media feed, and students can instantly view the updates on the screens across the college campus.
By adding your college's social media feeds to digital signage for colleges you are adding an extra layer of compelling content that doesn't need extra management or editing. With NoviSign you can easily add Twitter, Facebook and Instagram to the content of the sign.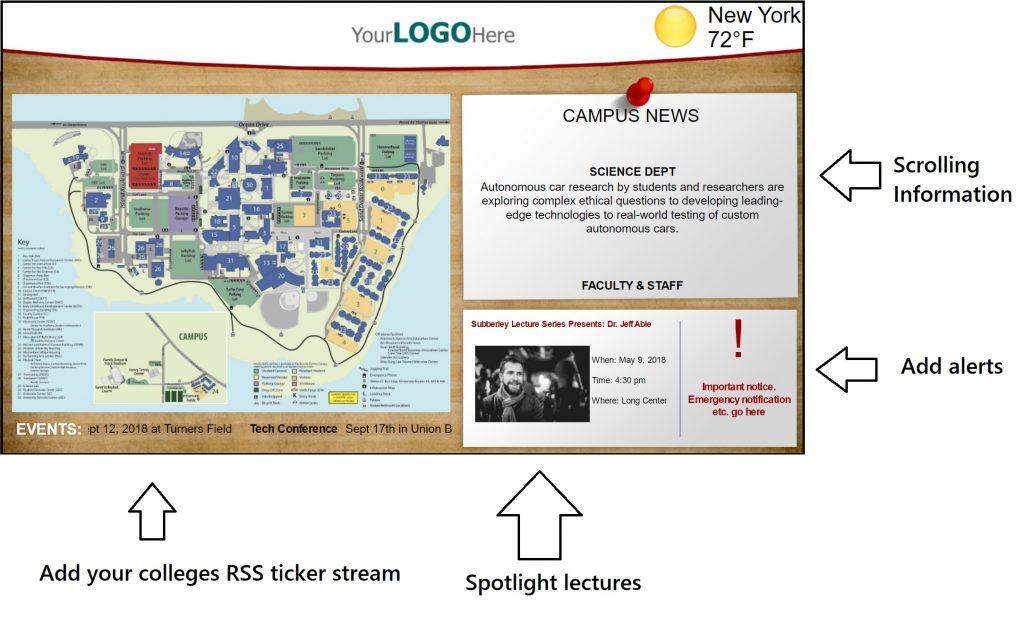 2 – Local news and world events
Adding live and real-time news is great way to help keep content fresh while helping your students stay up to date. With digital signage for colleges, you can add any RSS news feeds that instantly update with the newest headings. When students are walking from class to class, they will have the opportunity to stay current with the latest new developments.
Using the drag-and-drop RSS widget that is included with NoviSign's digital signage for college you can get any news feed. Some include: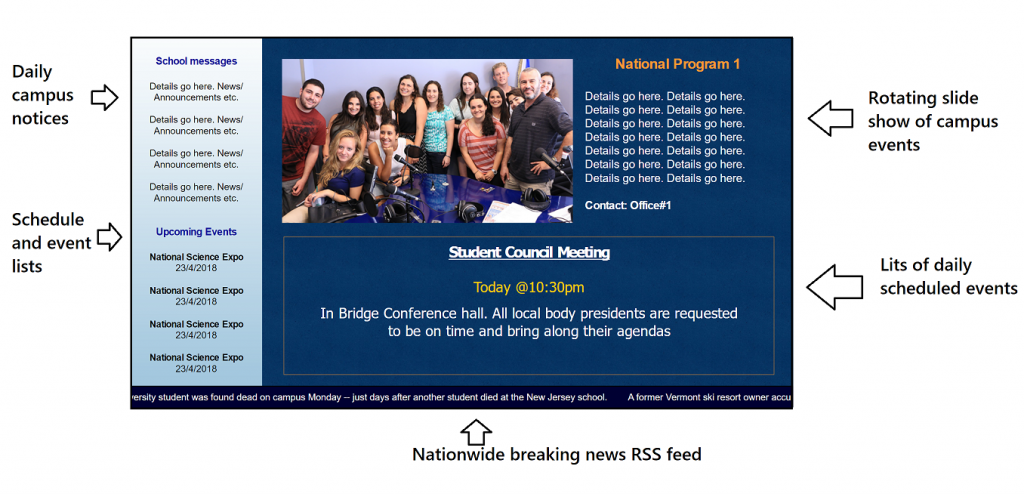 3 – Events, Classes and Schedules
Keep your students informed. Using digital signage for colleges, you can increase alertness of current and future scheduled happenings. Notify staff and students of last minute class cancellations, campus activities, program calendars and athletic game schedules. From your computer, you will be able to remotely update any schedule then send it to a specific sign located on your campus. In addition to making easy changes, you can pre-schedule calendar updates to update on specific dates and times automatically.
4 – Information, Notice Boards and Slideshows
The beauty of digital signage for colleges comes down to flexibility. With NoviSign, you can make content for that features campus notices, media slideshows, custom welcome messages, critical daily announcements and news.
Graphics and videos pull in the eyes and attract attention. From the weekend's athletic events to local work in the community adding HD videos and image slideshow to your content are a fun and easy way to spice up your content.
With NoviSign's digital signage for colleges you can even easily and quickly insert your college YouTube channel! You can also add your college Google Slides or Facebook Album.
5 – Digital Menu Boards
For your college's cafeteria, athletic department concession stands and cafes a digital menu board will help you better keep your menu visually appealing all while allowing you to sell more food! Using a digital menu board, you can add new food items, update prices with descriptions and insert food images.
6 – Your college's website
Another included widget with NoviSign is the website widget. Using the webpage widget, you can stream and display almost any URL. This is a great way to show important information quickly. You can set the website to display in a specific section or zone of the content of the sign. The setup is easy, all that you have to do is add the website URL.
Digital Signage for Colleges Tech Setup and Overview
What do I need?
2. Install
Install the TV
Connect media player to TV via HDMI
Connect media player to the Internet via WiFi or Hardware
3. Power On
Turn on TV and media player
Install NoviSign app on the media player
Log-in to your NoviSign Account
4. Content is Playing
Once you have signed into your NoviSign account on the media player content will begin playing
To make an additional change to content log-in to your NoviSign account online
Usful links: