Chrome OS Digital Signage is scalable, cost-effective and dependable making it a practical and highly effective solution for digital signage. You can use any Chromebit, Chromebox, Chomebook, Chromebase, or any other Chrome OS device to power your digital signage.
If you're looking to get started with Chrome OS digital signage today you can sign-up for NoviSign free 30-day trial and begin sending content to your Chrome OS device today!
Step 2: Install the free NoviSign app onto your Chrome OS device (find the app in the Chrome Marketplace)
Why should I choose Chrome OS for Digital Signage?
Chrome OS has been specially designed for dependability, swiftness, and easiness. These traits add up to consistency and security for digital signage. Chrome OS Digital Signage players are well-designed and provide low-cost entry for digital signage.
Remotely control and manage network configuration
Device monitoring, view system status and health
Restrict and control the devices to only run digital signage
Completely secure with verified boot, encryption, sand-boxing and auto-updates
Small form devices that are energy efficient
Chrome OS Device Management
Using Chrome's device management console you can remotely configure and control all of your Chrome OS digital signage devices. This allows admin to pre-configure the devices and network settings to their organizations desired settings.
Remotely install apps
View connectivity
Take screen captures
Reboot Chrome OS devices manually
If you don't have a Chrome Device Management account you can still run NoviSign's ChromeOS Digital Signage using the non-kiosk mode.
What Chrome OS device should I use for digital signage?
CTL, Asus and AOpen manufacture commercial grade Chromebox devices that are commercial grade, small form and powerful. Pricing is affordable and these manufacturers are certified Google partners.
Here two setup guides for Chrome OS devices:
How to get started with Chrome OS Digital Signage?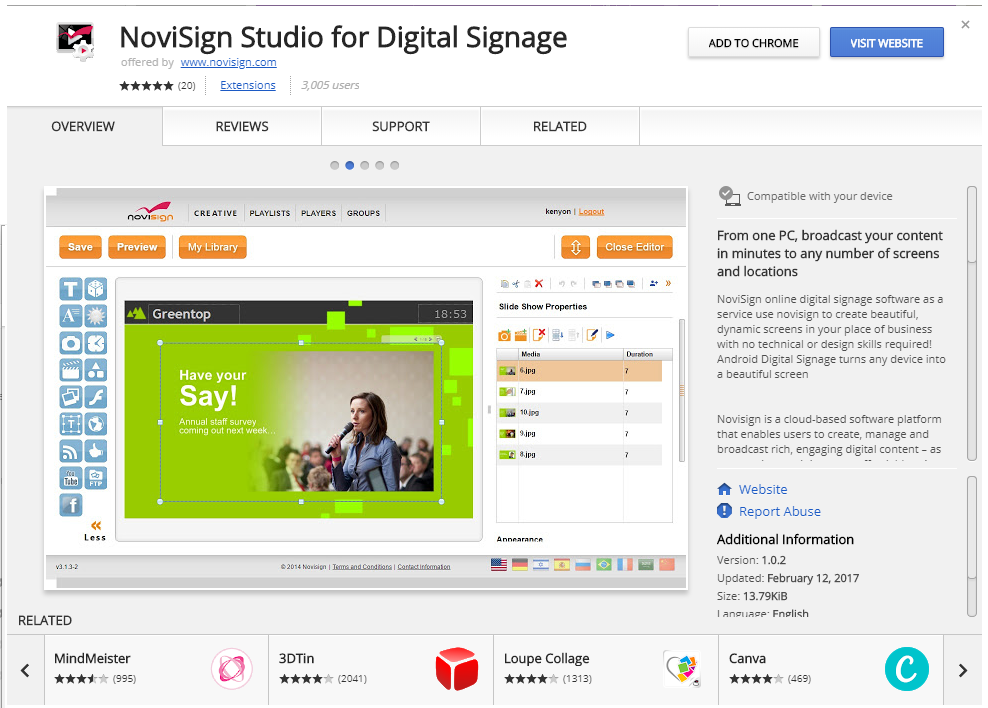 NoviSign's proven all-in-one digital signage software run's on Chrome and you can download the digital signage Chrome OS app for free on the Google chrome web store.
Getting Chrome OS Digital Signage up and running is easy and will only take you a couple of steps.
Install a screen at your desired location
Purchase a Chrome OS device and connect the device to your screen
Install the Free NoviSign Chrome OS Digital Signage app
Sign up for a free 30-day trial of NoviSign and begin sending content to your screen
Reliable and Proven Digital Signage for Chrome OS
With NoviSign Chrome OS Digital Signage, you can remotely create and manage content from any PC then remotely schedule your screens to update. With the online Studio editor and the included drag-and-drop widgets, you can create dynamic content that includes:
Images
Videos
Weather forecasts
Clocks
Vibrant slideshows
RSS feeds
Scrolling text tickers
Webpages
Interactive polls
Virtual Queue
Facebook, Instagram and Twitter feeds
YouTube streams
About NoviSign
"We chose Novisign's Chrome-based digital signage solution because it's cost-effective, scalable and secure."
 – Chet Patel, Director of Information Technology, Disney (read full article)
 Since 2011, NoviSign has helped over thousands of organizations to power and manage their digital signage screens. With deployments across 5 continents, NoviSign has worked with retail stores, schools, restaurants, medical facilities, doctor offices and corporations deploy digital signage.
Free Support: we're available anytime to help you
Contact Us Your Way: phone, Email or Social Media
Help Center: simple online guides and material
Video Tutorial: step-by-step videos
Quick Start: Online easy-to-use resource center
Email Help Desk: 24/7 email aid
Webinars: Free online demos and training
Pricing
Month to Month: No contract, $20 per screen/media player
Annual Discount: Prepay 12-months and receive up-to 25% off
Education & Non-Profit: 25% discount to education, government and nonprofits
Volume Discounts: Receive special rates at 5 screens or more
No Hidden Fees: We don't have setup charges or hidden fees
No Contracts: Cancel any time from our monthly subscription
Payment Methods: Credit Card, PayPal, Invoices and POs
Is Cloud-Based Digital Signage Software for Chrome Is Reliable?
NoviSign's "online Studio" is a rich client application that runs within a web browser. This is an internal NoviSign IP. The connectivity within NoviSign components (database, servers, statistics and monitoring components) are safe within the cloud. There is no implication on the user players/screens due to the connectivity within it.
The content remotely updates and caches locally on to the Chrome OS digital signage player. Media will play when the device is offline.
HTTPS: HTTP/S protocol to connect to NoviSign SaaS cloud
SSL: The Online Studio is secured by SSL, user and an encrypted password
Encryption: All user passwords in the database are also encrypted
Secure Storage: NoviSign Storage cloud is secured on Amazon S3 Cloud Server