Earn up to six months of free NoviSign for all customers that switch from another service provider to NoviSign.
New York, New York – NoviSign Digital Signage, the market leader in cloud-based digital signage software, today announced a new promotion for Q4 2021 that offers all new customers up to six months of free digital signage software when they move from another digital signage software provider to NoviSign.
"Our new Switch & Save program is ideal for businesses looking to update and replace their current digital signage software vendor," said Chad Bogan, NoviSign's Director of Sales and Marketing. "Customers can utilize NoviSign with their existing televisions and Android, Windows or Chrome media players. As a result, businesses will incur minimal to no switching costs, while simultaneously boosting their capacity to visually communicate via digital signs."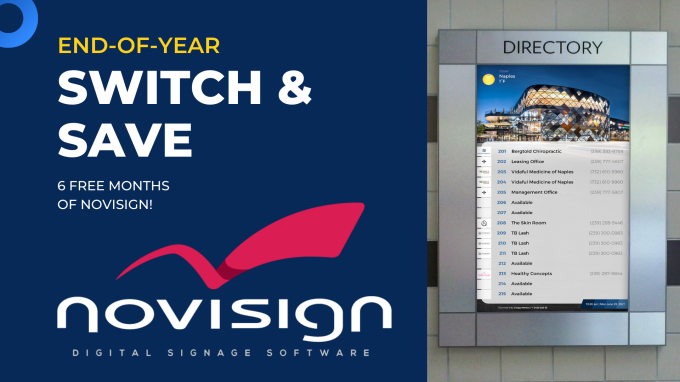 The NoviSign Studio CMS is now available
NoviSign's Digital Signage Software is a cloud-based system for creating and managing digital signage. You may create dynamic content for your business lobby, K12 school, restaurant, employee communications, hospital or manufacturing floor in a matter of seconds.
A comprehensive collection of widgets and apps for digital signage
Widgets are easy to incorporate and will help bring your content to life! The cloud-based digital signage platform from NoviSign includes a broad toolkit of easy-to-use widgets for developing dynamic content-rich media. To apply, you do not need to be a graphic designer or have experience with information technology.
Intelligent Integrations
Integrations with digital signs are a highly effective means of automating the process of updating information. By connecting to third-party platforms, APIs and KPIs, NoviSign enables you to sync and show your data and content on your digital signage displays. Dashboard analytics, Office 365, point-of-sale data and reports are all integrated.
NoviSign's Background
NoviSign's Digital Signage Software is a SaaS service that enables easy management of dynamic digital signage campaigns globally, from cloud-based to IP-based digital signs. You may transmit customized real-time messages to an unlimited number of signs in an unlimited number of locations from any PC. NoviSign is a privately held Israeli company that specializes in digital signage software. The company has field sales offices in Portugal, Japan, France, Germany and the United States.
Chad.