Digital Signage for Amusement Parks
Screens at entrances sharing daily ticket promotions to digital menu boards at food stand, amusement park digital signage can be used to improve day-to-day communications and marketing. Digital Signage for Amusement Parks is also a great way to emphasize your brand consistently across all mediums. From colors to the font, you have complete control when using digital signage!
A Remarkably Better Way to Advertise
New park promotions, session pass specials and food and concessions sales are all examples of how and why you need digital signage for amusement parks. Eliminate the need for costly printed signs while improving the way you visually market and share information. Amusement park digital signage is the smart solution for:
Promoting new rides and attractions
Sharing upcoming event specials
Upselling group packages and ticket sales
Providing park wayfinding directions and maps
Enhances the way you advertise
Emergency evacuation maps and messages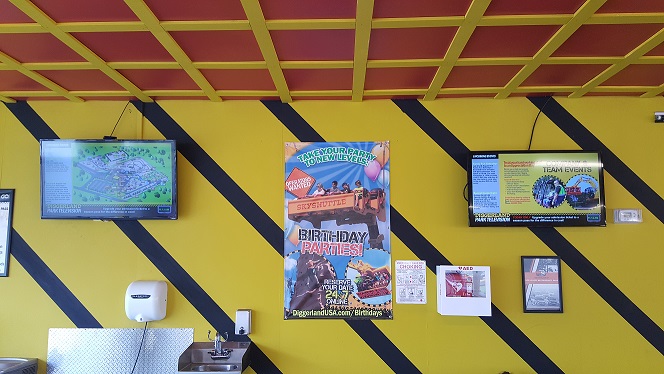 Create Customer Loyalty by Improving Experiences
Use amusement park digital signage as a form of entertainment. By providing park guests with the useful and engaging information, you will reduce perceived wait times while making it easier for guests to access on-demand notifications. From digital signage mounted in ride wait lines to displays at customer service booth, digital signage for amusement parks can be used to:
Provide HD "You are Here" maps
Attraction videos and information
New rollercoaster announcements
Upcoming special event and festivals
Show ride safety and height requirements
Display park "Things to Do" lists
Increase Concession and Ticket Sales
Improve your revenue by raising your average customer transaction dollar amount.
An example of this is Concession Stand sales. Let's you have several screens mounted at your stand. On the screen you have a series of short add-on advertisements; add an XL Large Soda for only 1.99. Because your concession stand has a short wait line, customers will have full visibility of your screens. By adding specials to your amusement parks digital signage screen, you can quickly and quickly drive sales with digital signage for amusement parks.
Add digital menu boards to highlight food specials
Upsell exclusive dining passes and program
Highlight session pass benefits and deals
Promote "Skip the Line" passes
Efficient and Intuitive
Digital Signage for Amusement Parks is a reliable option for amusements parks that are looking to streamline their ability to share information. To deploy digital signage for amusement parks all you need is an internet connection, TV's, media players and a single web-based digital signage software to manage your amusement parks digital signage. Good software needs to include:
Easy-to-use with multi-user control
Drag-and-drop widgets for quick content design
Template scheduling for weekly automatic updates
Remote monitoring of screens
NoviSign for Amusement Park Digital Signage
NoviSign provides an all-in-one solution for digital signage software. This means from any computer, at any time you can easily create, edit and manage your amusement parks digital signage. From adding drag-and-drop multi-media slideshows of advertisements, promotions and other messaging to displaying live and engaging live social media stream you can use NoviSign to control your amusement parks digital signage screens!
Why NoviSign?
We believe digital signage needs to be easy-to-use yet powerful. Because of this belief NoviSign powers over 20,000 screens across 5 continents.
No costly hardware requirements
Multi-user admin control
Unlimited zones and sections of content
Enterprise-grade digital signage for amusement parks