Introduction: What is Digital Signage and Why is it so Important?
Digital signage is essential because it helps businesses reach their target audience and provide helpful information. For example, companies can use digital signage to create awareness about their product's services or advertise their new products.
The best digital signage software varies depending on what you need to do. If you want to create content for your business, the best signage software will have features that allow you to create content quickly and easily. If your goal is displaying advertisements, then the best digital signage software should allow you to easily set up ads in different media formats, including video and audio.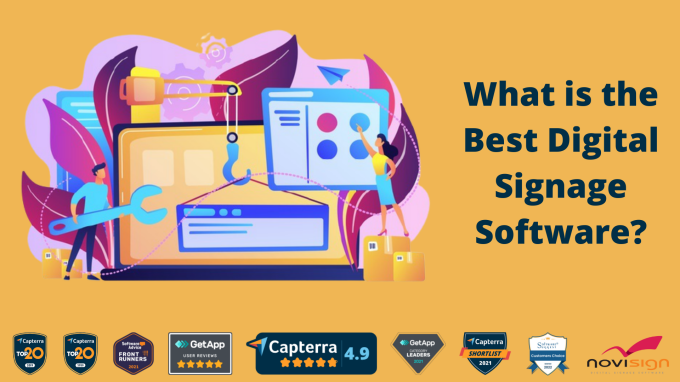 How to Pick the Best Digital Displays Software for Your Business?
With the increasing demand for digital displays in today's business, choosing the best signage software for your business is vital.
The most crucial factor is the type of content that you want to show on your digital displays. For example, suppose you're going to offer a combination of text, images, videos, scrolling tickers and weather updates. In that case, it is best to go with digital sign software that comes with drag-and-drop digital signage widgets.
There are a lot of options when it comes to digital displays software. However, most businesses tend to stick with the same display software because they know it is reliable and easy-to-use.
With so many options available in the market, it can be challenging for businesses to figure out the best digital signage software to use.
A Brief History of Digital Signage Adoption and How to Get Started Today
The earliest known use of digital displays was in 1891. When the first public display of information, called a "ticker" was created by Thomas Edison. The first digital signage system, which used a cathode ray tube and a computer to display text and graphics, came in 1961.
Digital signage is an effective marketing tool that can reach customers on any device at any time. It has gotten more popular with the increased use of smartphones and tablets among consumers. As a result, businesses are now using digital signage as an affordable way to advertise their products or services.
Digital signage has been around for a long time, but it wasn't until the 1980s that people started to see its true potential.
What are the Options for Different Types of High-End Digital Signage Solutions?
The best digital signage solutions are a combination of software and hardware. They come in various options like software-only, hardware-only, software and hardware or software and signage.
High-end digital signage solutions can be used for advertising, marketing campaigns, sales promotion, customer service, event management and more.
The best option for your business usually depends on the type of business you are running. For example, suppose you have a brick-and-mortar store. In that case, you should consider having a simple digital signage software solution that lets you remotely update and manage the screen's content from your computer.
Conclusion: Start Using a Digital Signage System Today to Supercharge Your Productivity & Creativity
Digital signage systems are a great way to engage with your audience while providing value-added content that helps them solve problems or make decisions. With the help of the best digital signage software, you can boost your productivity and creativity by keeping your employees engaged and informed. So what's stopping you? Get started today and sign up for a free 30-day trial of NoviSign!