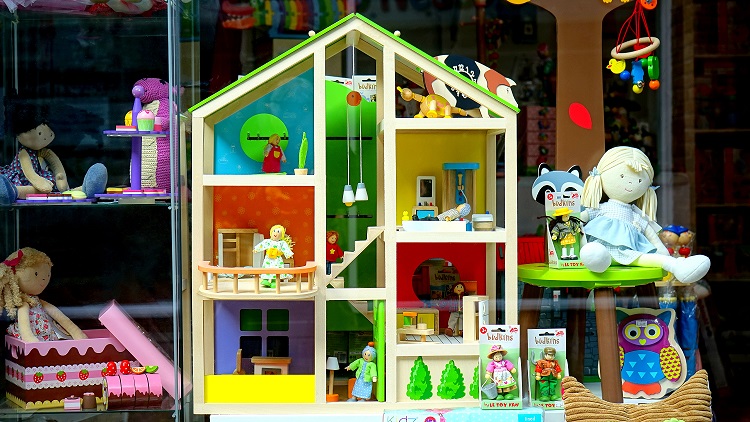 Digital Signage for Toy Stores – Toy Shop Digital Signage
Digital Signage for Toy Stores is a dynamic and flexible solution for in-store advertising. By installing screen near your entrance, new toy display sections and other high traffic areas of your toy store you can consistently reach and communicate with your customers. With Digital Signage for Toy stores your marketing department can create engaging advertising screens then pre-set the different ad layouts and content to play throughout the entire day, specific times and even schedule individual sales to play on specific times and dates.
Using Toy Store Digital Signage, you can showcase:
Eye-catching new toy videos and commercials
Exclusive toy sales and specials
Promote "staff picks"
Customer rewards and loyalty programs
Upcoming events
Increase Toy Sales
Use digital signage for toy stores to spotlight popular new trends and toys.  By adding screens in department sections, you can use signage as a way to draw in your customers.  In the vicinity of the screens add sample toys or a fun POP display setup that the kids can walk up to and engage with the display.
This interaction drives sales enabling you to run new specials and promotions weekly consistently. In addition to improving toy sales, you are adding to your customer's shopping experience and making it enjoyable for both parents and their children!
Social Media Streams
There is nothing better than a little social media action! Add your toy stores Twitter, Facebook and Twitter feed to the screens. You can set the system to pull and display specific #'s, your companies social media posts, and customer images that contain your company. This is a great way to share live content that is fun and entertaining on your toy store digital signage screens.
Media Slideshows, YouTube and HD Images
Add any combination of videos, images and YouTube videos or playlists. By adding this form of informative content, you can grab the attention of shoppers while being able to promote better and advertise your products. From simple slideshows to motion graphics clips you will be able to keep your toy store digital fresh and relevant.
Digital Signage for Toy Stores
NoviSign offers toy stores of any size the ability to quickly and easily begin using digital signage for toy stores. Using NoviSign's all-in-one digital signage software, you can create and manage toy store digital signage that is captivating and effective! From any computer, at any time you can remotely update the screen content.
With the included drag-and-drop widgets add media slideshows, custom scrolling text tickers, fun in-store games, social media feeds, HD videos, images, and more! The system is easy-to -use and comes with customizable templates. These templates have multiple zones in which you can add your media files, text, logo and other information.
Also, included is the ability to preschedule your content to play on specific dates, set recurring schedules and expiration dates. You can also remotely monitor your screens to view if they are connected and playing content.
NoviSign's software runs on Android, Windows and Chrome OS media players. You can also purchase an Android TV and install our app on the TV for free. This setup is easy and cost-effective.