Recently, we have added to our digital signage software API to connect to RFID readers and barcode readers.
This is a perfect solution for shoppers in a store who want to get more information about a product. It might remind the beacon technology, but this one doesn't work on smartphones. In this case we integrated our product with RFKeeper RFID solution provider. However, we can integrate with other RFID readers as well.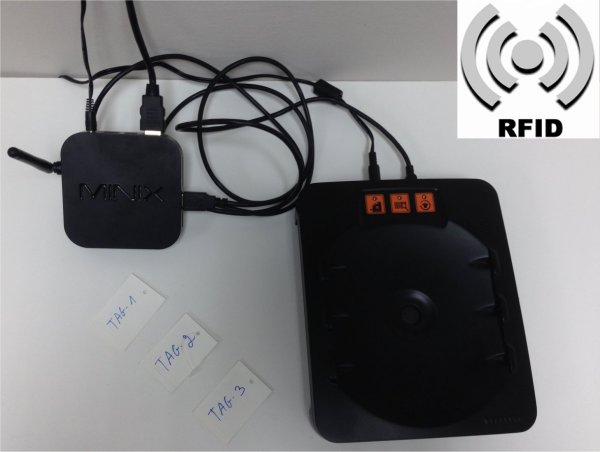 Let's simplify the way it works in few simple steps:
1. The shopper enters the shop and takes an object in the shop.
2. He puts the object on the RFID reader (which is connected to the digital signage device which is connected to a screen).
3. The object (which has a passive little RFID tag in the bottom) makes the reader to make a beep sound (and sends a signal to the signage device that a specific slide related to that RFID tag needs to be triggered).
4. The specific slide which is related to the RFID tag (which is attached to the object) is triggered and appears on screen, giving the customer information about that object.
Our product can be integrated with an RFID reader as you can see in the following videos.
The following video will show you how does the customer experience in a shop with RFID reader looks like:
The following video will show you how to do it with the hardware and using the online Studio:
In the online Studio, enabling the RFID events will look like this: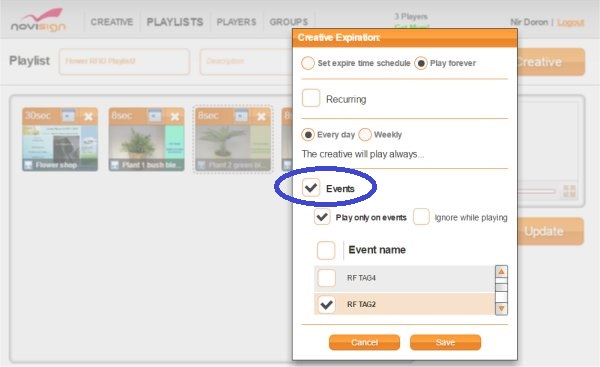 The digital signage world can benefit from many new options which result from combining it with RFID.
So, what do you need for making all this happen? Contact us at info@novisign.com to see what fits you best.