Recently we updated our recommended Android digital signage hardware page with the hottest TV boxes in the world: the MXQ and the MXQ Pro.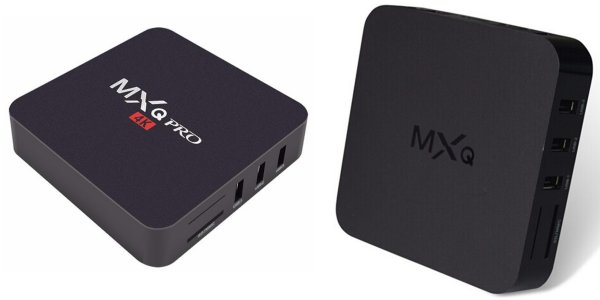 What's so special about the MXQ? You guess right. The price! You can obtain them for 30 – 50 USD each. Retail price. No wonder they are "breaking" the market.
After specializing with the Minix TV boxes, we decided to explore the new MXQ and MXQ Pro.
The basic MXQ and the MXQ Pro (1GB) are easy to be purchased, but the MXQ Pro with the 2GB RAM is more hard to find (and has better performance than the 1GB RAM).
Their specifications are: Quad core Android TV box, AMLogic S905 (MXQ Pro) or S805 (MXQ) processor, 1GB RAM (2GB in some of the MXQ Pro), 8GB storage, Android 4.4 (MXQ)/5.1 (MXQ Pro), full HD (MXQ)/4K (MXQ Pro), WiFi 802.11, RJ45, HDMI, 4 x USB, SD card slot, audio jack, AV jack, IR remote control and power supply.
Please notice that the market is full of fake MXQ devices. It's not so easy to tell what is genuine and what is phony.
Here is the unboxing video of those devices:

They all have good performance and here are some other insights we got:
For all those devices, the "Video To Video Transition" setting must be set to "Background".
The basic MXQ still has some video issues, hence we recommend of using the MXQ Pro instead.
In the basic MXQ, in order to improve the RSS scrolling, it must be set to "Accelerate Text Animations" as "off".
It seems that the none of them can play more than one video at the same time on the screen. If you try to do it on the basic MXQ, you might get stuck with an error message which will disappear only after you restart the device.
They might need to be connected to a working screen all the time, in order not to shut down.
Rotation Works only on the basic MXQ, but has some issues. For now, better not use the screen rotation.
We will keep exploring the MXQ as we do with other Android, Windows and Chrome OS devices and will update more conclusions from time to time.