Introduction
NoviSign has a dashboard widget in the online Studio CMS which allows users to connect to
multiple systems to fetch data and show it on the digital signage displays. System can be
Tableau, PowerBI, anything that can export a CSV format file and more.
System overview
Generally, only creator of PowerBI app can share his reports and dashboards. Assuming
Novisign is the owner of PowerBI app deployed in its ecosystem, then owner of this account can
use the PowerBI app from within the online Studio CMS.
Additionally, NoviSign would like to give an ability for external users (partners/resellers,
NoviSign users, etc.) to fetch their own reports from their accounts and represent them in an
embedded way by Novisign dashboard widget.
As per Microsoft official doc, users who want to use PowerBI app (through Novisign dashboard
widget) should have:
PowerBI Pro license (not Trial, but actual Pro).
A P or EM capacity. This configuration allows all users to have free licenses.
Getting started
As a customer, if you'd like to understand what PowerBI account you do have, you'll need to
find out what type of license is assigned to your account, select your profile picture from the
page header in Power BI service. If Pro account or Premium Per User account is displayed, you
can share content with other users. When Free is shown, you can only create content in My
Workspace and consume content that is hosted in a Premium workspace. Select View account
to see more details about your account.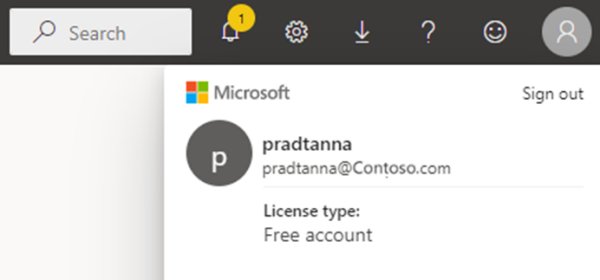 What is PowerBI Pro license?
First, better understand what exactly is PowerBI Pro license:
Power BI Pro is an individual per-user license that lets users create content and also read and
interact with content that others have published to the Power BI service. Users with this license
type can share content and collaborate with other Power BI Pro users. Only Power BI Pro users
can publish or share content with other Pro users or consume content that was created by other
Pro users, unless a Power BI Premium capacity hosts that content. If a Power BI Premium
capacity hosts the content, then Pro users can share content and collaborate with free and PPU
users too.
How to get a PowerBI Pro license?
Open trial business account for MS 365.
Launch https://www.microsoft.com/en-us/microsoft-365/microsoft-365-business-standard-one-month-trial.
Go through all the steps.
You now have your own business account, which can be used to register an account in
PowerBI and get a Pro license.
Useful links
https://learn.microsoft.com/en-us/power-bi/consumer/end-user-features
Support
Please feel free to contact NoviSign support team (support@novisign.com) for further technical
questions.