Android Tablets + NoviSign = Beautiful Digital Signage in your Business
NoviSign is a plug and play software that enables you to create style="position: absolute;bottom: 5px;left: 5px;"stunning in-store campaigns using a simple drag-and-drop in a studio to run on any Android tablet of your choice
Why Should I Use NoviSign?
NoviSign turns any Android tablet into an advanced, beautiful digital signage screen:
Use your Android tablet for in-business promotions or as an information pad
Position your screen strategically near products, waiting areas, near bars and counters, in taxis and buses, etc.
Increase your spontaneous sales by placing a tablet at your point of sale to increase purchases
Let people know what's going on in a lecture hall or meeting room
Choose any Android tablet of any size, any brand and any version, position it any way you like, connect to the internet and instantly start broadcasting from any location.
Where Can I Use NoviSign Android Tablet Signage?
● Near any point of sale
● On shelves
● In taxis, limos or buses
● Near gas pumps
● In restrooms
● In waiting rooms of clinics
● As a door sign for a lecture hall or meeting room
● The possibilities are endless! Let us know where you put yours! The Benefits of an Android Tablet
Works as an Autonomous Unit – just buy the tablet, connect to a power source and WiFi/internet and you're set to broadcast!
Connected to Cloud – works with WiFi or mobile internet (3G, LTE), enables automatic updates and syncs from the network
updates and sync from the network
Works Offline – even if your connection is down, NoviSign continues to work and once the connection is restored, it automatically syncs and updates from the network
Multiple Devices – central Control – manage many devices in many locations from wherever you are
Many types of Android tablets – many tablet manufacturers work with Android, providing you with a wide range of sizes (7", 10", 15", 21" and more), types, prices and mounting options. Find the tablet that works best for your business. Buy a ready-to-use tablet or contact a local dealer for customized options
Minimal Tablet Requirements:
● Android OS 4.2 and above
● Dual Core CPU
● 1GB of memory
● Access to Google Play Store
How Does It Work?

Connect
Connect your tablet to a power source and to a WiFi network


Install
Download NoviSign's app from the Google Play Store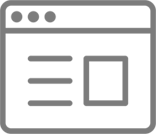 Go to the Site
From any browser go to app.novisign.com


Build Campaign
Create an account and with our easy-to-use studio, build your campaign


Start Broadcasting!

Learn more about our Digital Signage software for Android devices solution:
You can start using it right now and switch to production at any time
Sign up for a free evaluation account
Please feel free to contact us for any question on Android digital signage at