Reliable, sturdy and powerful, the new Minix X10 mini NoviSign digital signage media player delivers 24/7 playback at a fraction of the cost of traditional signage players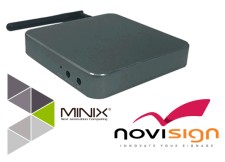 NoviSign digital signage today unveiled a new MINIX Android based digital signage player that features a specially formulated bloatware firmware to run NoviSign's industry leading cloud-based digital signage software. The player beautifully plays NoviSign's wide variety of over 20+ drag-and-drop widgets, caches all content for offline play and comes with auto-power and app load for power outage situations.
"Yes, you can find a variety of of low-cost Android players online from China but when there's an issue, you have no one to call or you'll have to wait weeks for a reply," said Mitchell Xie from MINIX. "The X10 is built with high quality industrial components with optimized firmware for NoviSign digital signage software to operate 24/7.  If you ever have an issue or question our support team gets back to you right away."
Because NoviSign is one of the industries few providers of a true Android digital signage app for digital signage MINIX and NoviSign has fully optimized the X10 mini player for maximum performance. The Neo X10 mini features an A-Core A53 64 BIT CPU with a devoted PowerVR graphics that seamlessly supports full 1080P HD and 4K media and comes with WI-FI, hardwired and 3G/4G card slot.
Fast and Easy Installations
To begin creating, editing and managing your screens, digital signage follow these simple steps!
Purchase the X10 mini media player for NoviSign
Connect the X10 mini to any TV via HDMI port
Open the NoviSign app & login to your account
Select your screen/playlist name and content will start playing!
About MINIX
Established in 2008, MINIX has since emerged as a global leader in the development of next-generation computers and is setting new standards in portable PCs & Media Hub technologies. MINIX pursues the latest in technological innovations to offer revolutionary devices fully equipped with web browsing, Google Play Store, Internet Radio, YouTube, Video Playback and much more, to fulfill all your computing and media demands.
MINIX endeavors to provide state-of-the-art computing technologies to all users, passionately focusing on the design and aesthetics, never compromising on either. MINIX redefines the way you interact and control your media and creates a computing experience second to none.
Chad.