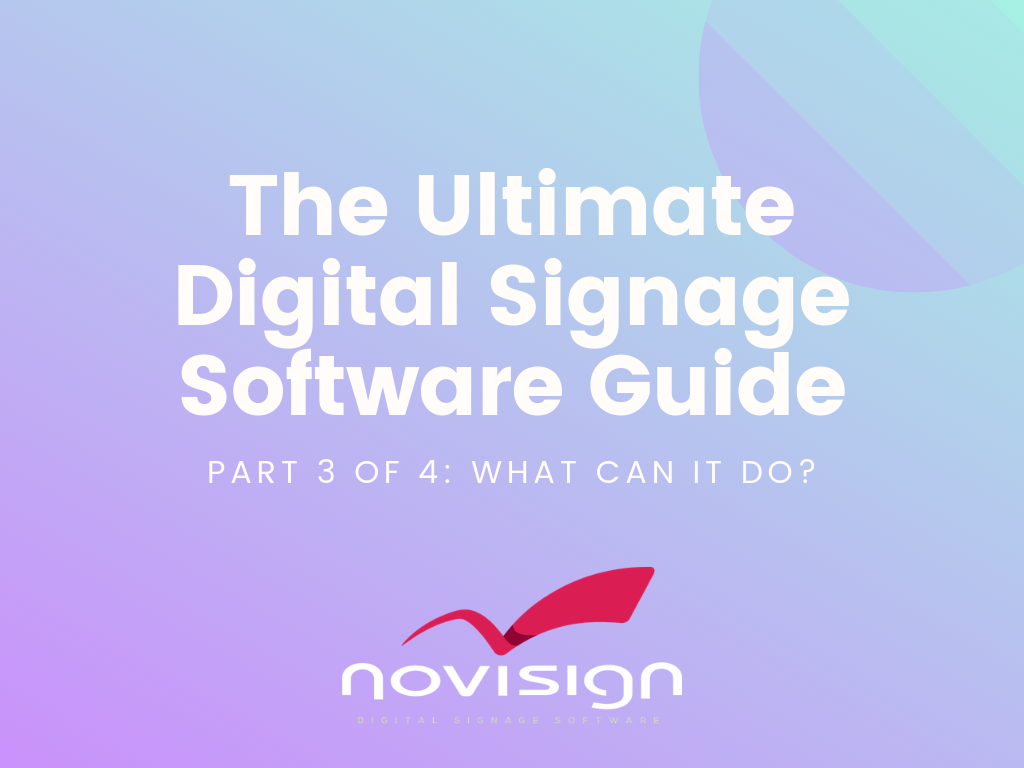 In this article, 3 out of 4 in our 4-part Ultimate Digital Signage Software series, we're going to cover 'What can it Do'.
When it comes down to it, your digital signage is only as effective as the digital signage software that you're using to create and manage the content of the digital signs with.
If you have not yet outlined what you're looking to accomplish using digital signage, stop reading this now and list out your digital signage goals. This list can be used during the evaluation process.
If you haven't outlined this yet no worries, we're going to cover the top 6 most requested drag-and-drop widgets that customers ask for:
1. Slideshow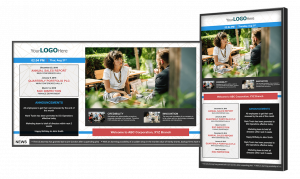 Yeah, it may sound basic, but in reality, a good 70% of customers ask for and use this feature. Since this is one of the used items, you must look for ease of use when setting it up. A good slideshow widget will support the following capabilities:
The slideshow box can be adjusted to any size; fullscreen, 1/4 of the screen, 3/4 of screen

Supports uploading PNG, JPG, MP4 Videos and PowerPoint slides

The ability to set the play duration of each slide
Key take away is that the slide show widget needs to be flexible and be able to play the standard file types that you use.
2. Scrolling text and news tickers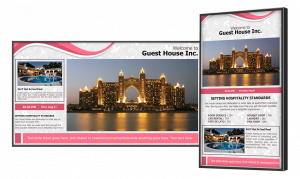 Have you seen those scrolling news tickers that are on the bottom of news channels? Now imagine being able to add those types of feeds to your content.
From custom scrolling text notifications to real-time streaming news you scrolling tickers can be used to grab attention while sharing on-demand information.
Make sure the tickers can:
The tickers text can be customized; font style, size and color

The scrolling speed can be increased/decreased

The scrolling direction can be adjusted left to right, right to left, top to bottom, or bottom to top

The news feed can be changed to play any RSS feed
The key take away for tickers is versatility. The tickers layout needs to support customization, so it has an exact look and feel your looking.
3. Weather and Clock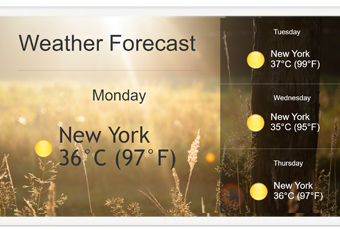 Yep, it is another fundamental feature, but it is a practical capability that customers use every day. The weather and clock will need to support:
Multiple time zones for the clock

Weather needs to be localized to your location

Supports Fahrenheit and Celcius

The weather and clock text should support font, color and size customization
4. HD Videos and YouTube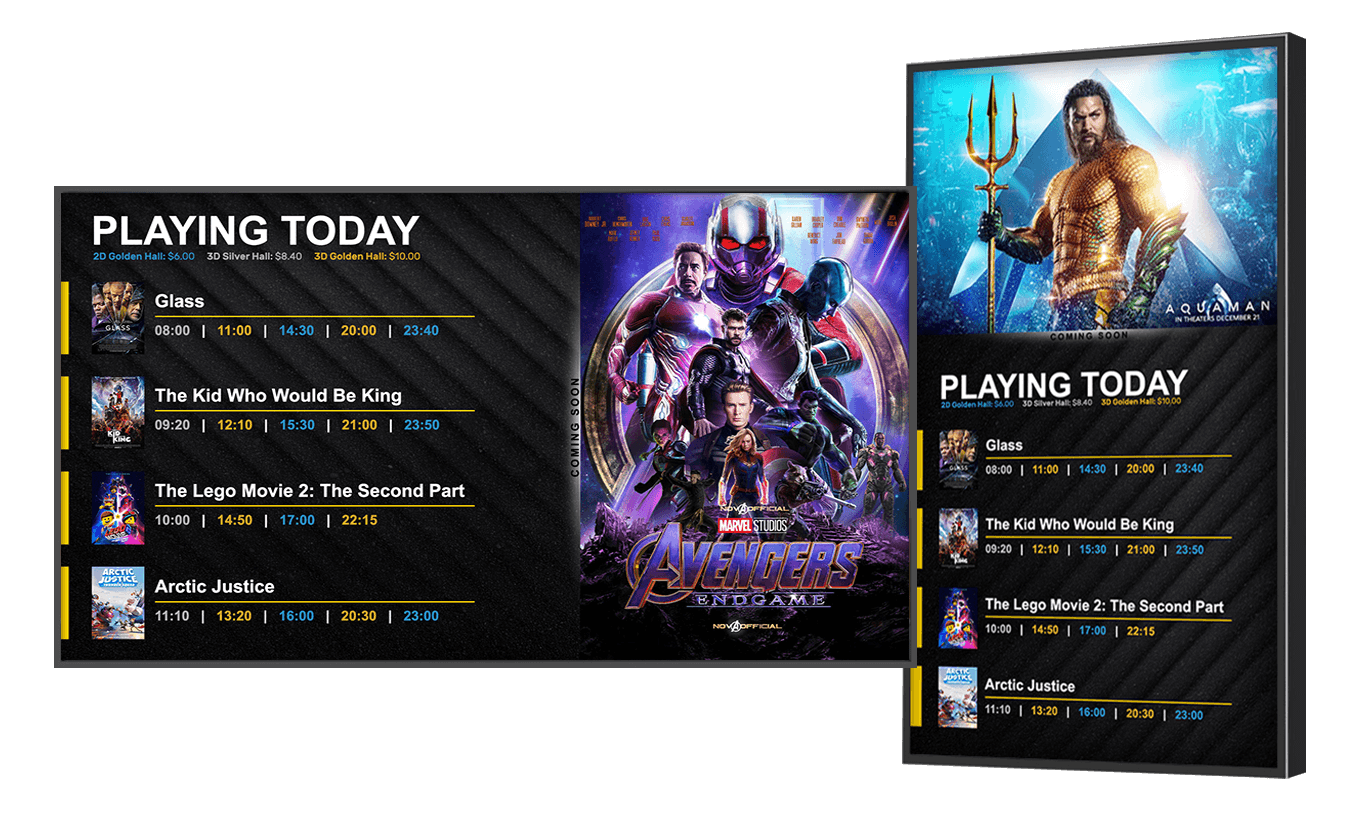 There is nothing like creating engagement like videos. From commercials to informational clips adding videos to your digital signage will pique interest while creating an immersive experience. A good video widget needs:
Play in both HD and 4K

The video zones size needs to be able to be adjusted in size

YouTube videos and playlists should be supported to play
5. Social Media Streams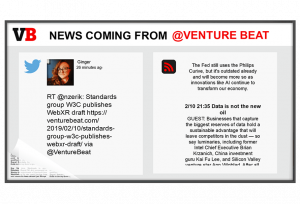 Incorporating your organization's social media feeds into the content is one of the most effective forms of driving awareness to your social media accounts. Twitter, Instagram and Facebook are the top three most popular platforms to add to your digital signage. The best social media widgets will:
Auto-update on the screen as you add content to your social media account

Be able to adjust the style and font of the social account layout

Stream content from specific #'s, users and @ symbols
6. Google Slides and Sheets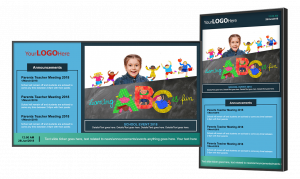 For companies and schools that use Google Suite, incorporating your slides and sheets into your digital signage software serves as a seamless approach to getting your content out and visible to the public. Benefits of adding your Google content to digital signage include:
Auto updates, as you make changes to your Google content, it auto-updates on the screen

Sheets help you share data and charts in real-time
Conclusion
Make sure the digital signage software platform that you choose supports the communication requirements that you need. If they claim to support it test it. Make sure the setup process is easy yet flexible and customizable.