Many of my partners and customers are asking me about the Chrome Sign Builder by Google.
So, I did a quick evaluation and as for now it seems like the URL widget (also known as "web page widget") of NoviSign combined with a scheduler.
It is better to call it, I believe, "Google Sign scheduler utility" rater than "Sign builder" or "sign platform".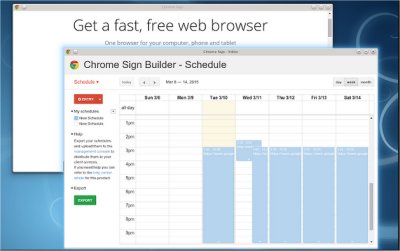 We can say that Chrome Sign Builder by Google is a nice digital signage utility happening to push forward the signage market. With the Sign Builder, it will let you schedule web content to be displayed on Chrome OS devices (such as Chromebook, Chromebox, Chromebit and Chromebase).
See the following link to learn more about the Sign Builder by Google in the Chrome Store market:
https://chrome.google.com/webstore/detail/chrome-sign-builder/odjaaghiehpobimgdjjfofmablbaleem
See the NoviSign link for the NoviSign online Studio (digital signage CMS):
https://chrome.google.com/webstore/detail/novisign-studio-for-digit/dfdapkjlkicjglbmoebpphldabhlpgja
We'll be happy if you share with us more by feedback to
support@novisign.com
Thanks,
Steve