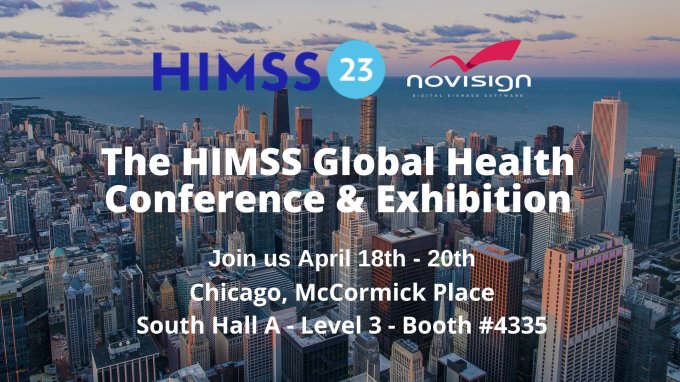 NoviSign Digital Signage will have a booth at the HIMSS Healthcare Expo in Chicago from April 18th to April 20th, 2023, in the South Hall A – Level 3 – Booth #4335. This is a great chance for people who work in the healthcare field to see the latest digital signage solutions made just for their industry.
HIMMS visitors will be able to see NoviSign digital signage can be used to meet their needs, like showing important health and safety messages, helping people find their way, and setting up appointments.
Specially Designed Digital Signage for Healthcare
NoviSign's digital signage software for healthcare was made to help organizations improve how patients interact with healthcare facilities and how they communicate with each other. The company's cloud-based platform allows healthcare facilities to show custom material on digital screens in waiting rooms, patient rooms and hallways.
The fact that NoviSign's digital signs software is easy-to-use is one of the most important things about it. The platform is easy for healthcare workers to understand and use, making it easy to create and manage content on their digital screens. NoviSign also has a number of healthcare digital signage templates and widgets that are already made to make it even easier for healthcare sites to start using digital signage.
NoviSign's digital signage systems can help healthcare facilities improve efficiency, cut costs and improve the patient experience. For example, the platform can show real-time wait times, calming patients and making it easier for them to move through the facility. Digital signs can also be used to promote fitness programs and get people involved in their own healthcare.
Stop by NoviSign's booth at the 2023 HIMSS Healthcare Expo to learn about its digital signage options! The experts from NoviSign will be there to answer any questions and show how the software works.