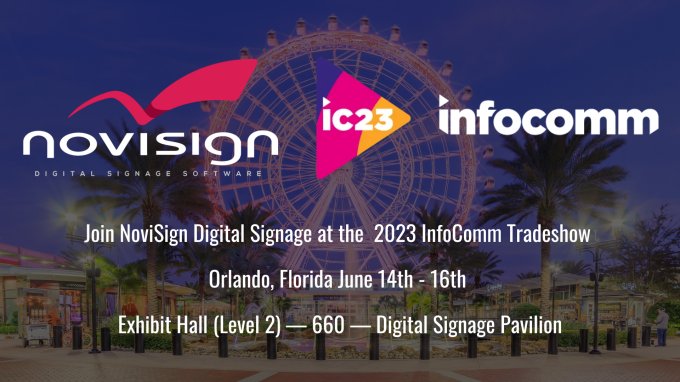 The 2023 InfoComm Tradeshow in Orlando, Florida, is just around the corner, and one company you won't want to miss is NoviSign Digital Signage at booth Exhibit Hall (Level 2) — 660 — Digital Signage Pavilion!
As a pioneer of cloud-based digital signage software, NoviSign has built a reputation for excellence, innovation and customer service. And at this year's InfoComm Tradeshow, NoviSign will showcase its latest products and technology, giving attendees a glimpse into the future of digital signage.
Easy & Reliable
In keeping with its reputation for innovation, NoviSign Digital Signage will be showcasing its newest offerings at this year's InfoComm Tradeshow. Their digital signage software runs in the cloud, making it simple for businesses to produce and control interactive display content. In addition, NoviSign's software is adaptable to various settings and industries, from internal communications to digital menu boards to education.
Expert Advice and Consultation
NoviSign Digital Signage will have a team of professionals available to consult with and advise participants of the InfoComm Tradeshow on any matters pertaining to digital signage. In addition, NoviSign's staff can help you construct a digital signage network from scratch or optimize an existing one to fit your company's needs and budget.
Digital Signage Networking Opportunities
The InfoComm Tradeshow is an excellent opportunity to connect with others in the audiovisual industry, and NoviSign Digital Signage will be no exception. By visiting their booth, you'll have the chance to network with industry professionals, learn about the latest trends and developments, and exchange ideas and best practices.
Expertise and Experience
NoviSign Digital Signage has been in the business for over a decade, and in that time, they've developed deep expertise in all aspects of digital signage. We understand businesses' challenges regarding visual communication and are committed to providing customized solutions that meet their client's unique needs.
Innovation and Creativity
At NoviSign Digital Signage, innovation, and creativity are at the heart of everything they do. They're constantly exploring new ways to use digital signage to engage customers, build brand awareness, and drive sales. And they're fearless in thinking outside the box and pushing the boundaries of what's possible.
Chadwin.