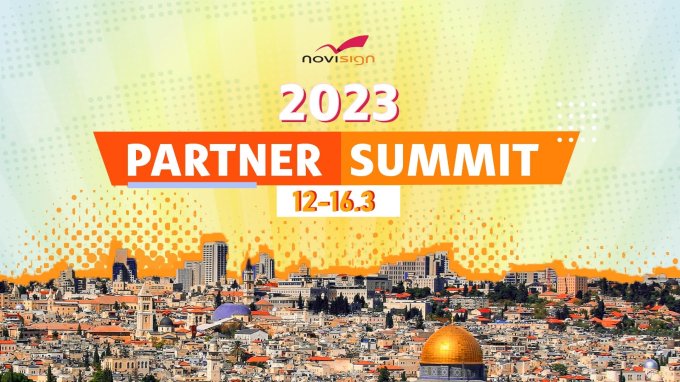 Join us for the annual NoviSign Partner Summit, an exclusive, 5-day event (view itinerary) where you can connect with NoviSign leaders, collaborate with industry peers and discover the latest in digital signage software innovation.
Most importantly, you'll learn how to create superior digital experiences that best serve your customer's needs and how NoviSign can help you build and grow your business.
NoviSign Partner Summit will include:
Opening and Keynote Sessions

from NoviSign Executive Leaders and Guest Speakers 

Keynote Sessions

from Industry Leading Manufactures

Multiple Breakout Sessions

featuring NoviSign experts, hardware partners and customers discussing ways to best create and deploy results-driven digital signage that enhances experiences while driving revenue

Expert Discussions

where you can learn how to differentiate your offerings with NoviSign, integrate external solutions, leverage cutting edge interactive systems and interact with NoviSign subject matter experts 
Reasons to Attend
The NoviSign Partner Summit is the official conference for Partners, open to all executives, business and technical professionals in the partner business
Hear from our executive leaders about the global NoviSign strategy and growth opportunities for 2023

Learn about the latest trends and how to drive adoption with your customers on the our new features

Learn how to increase revenue using recurring SaaS products and content creation services to gain a greater competitive advantage and expand your business

Hear customer success stories, and learn how they are using NoviSign to improve the way they visually communicate, drive revenues and improve efficiencies

Hear about the latest investments NoviSign is making in HTML5 developments, added capabilities and new features

Meet with our partner managers and marketing specialists to learn how you can leverage NoviSign for your own marketing and lead gen activities

Learn to differentiate your company and offerings with NoviSign, discover new target market opportunities, how to create cutting edge solutions and interact with digital signage experts

Network with fellow NoviSign partners and staff to learn best practices, new go-to-market strategies and gain expert insights on new hardware options

Discover New Sales tactics that can be used to generate new leads, upsell new services and drive additional sources of revenue

Continue Learning and advance your skills. Learn deployment tricks and customer onboarding tips that will improve your customer experiences

Ask the Technical Experts and chat with NoviSign engineers and solutions architects

Experience Immersive product sessions that will feature the newest in hardware, media players and displays
For more information and seminar pricing please contact us.