In celebration of its ten-year anniversary, NoviSign Digital Signage, a pioneer in Android Digital Signage software, has published a new software release! In addition to the new features, NoviSign can now be installed natively on LG webOS, Samsung Tizen, SHARP SoC Android displays, Hisense Android TVs, Philips Android SoC Professional Displays, and Sony's line of Android displays, among other platforms.
According to NoviSign CEO Gil Mazliah, "Centered on our customers, this new software release adds a new level of usability to our already powerful digital signage design Studio. In addition to native integrations with CANVA, DropBox, and PosterMyWall for one-click content importing, users will now be able to connect and display content from external sources, making content designs and integrations even easier with NoviSign."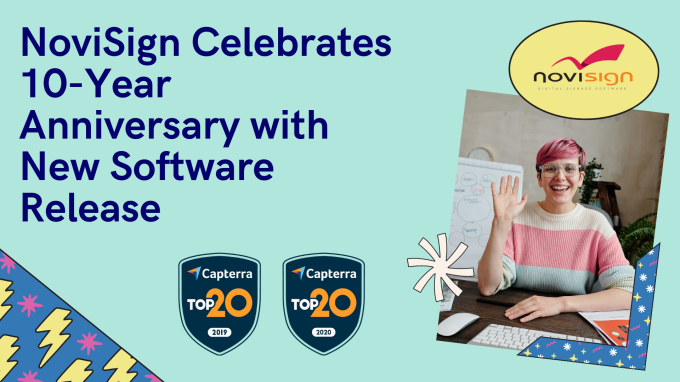 CANVA
Online graphic design leader Canva, now fully supported and integrated with NoviSign, has expanded its partnership. Users can now design and directly import their content into NoviSign with a single click, thanks to a new feature available inside NoviSign's cloud-Studio platform.
POSTER MY WALL
PosterMyWall is a graphic design software company well-known for its ease of use, and attention-grabbing graphics is now fully integrated with NoviSign. Users can now directly insert stunning motion graphic designs, animated menu boards, business advertisements, and informational posters into their NoviSign content from Poster My Wall.
DROPBOX
Dropbox, the world's leading provider of cloud-based file storage, enables users to share documents, presentations, videos, and other media from any location. The NoviSign Dropbox integration allows users to directly import their Dropbox files into NoviSign and have them play on their digital signage display screens.
GOOGLE DRIVE
With NoviSign, you can easily connect to and import your Google Drive folders and content! Specify whether you want the media to play as slideshows or as full-screen images. You can also get creative and include other widgets such as RSS feeds, weather, and tickers that will play in conjunction with your Google Drive content.
CLOUD-BASED DIGITAL SIGNAGE SOFTWARE
The cloud-based digital signage software from NoviSign enables users to create touch screen digital signage layouts quickly and easily without the need for coding or HTML5 knowledge. A simple retail touch screen kiosk that displays product specials or a dynamic wayfinding kiosk that provides turn-by-turn directions, NoviSign's free-form design Studio can accommodate any requirement.
The most comprehensive collection of drag-and-drop widgets
Complete template library
Instagram and Twitter social media widgets
Integrations with Slack, Microsoft Outlook Exchange and Google Calendar
Stream live videos on YouTube and Ustream
Set up playlists, set expiration dates and recurring schedules
Control a single display or hundreds from anywhere in the world
Controls for administrators with multi-user access
Cloud media library for archiving and distributing your media
Updates to the content are made in real-time
PRESENCE ON A GLOBAL LEVEL
NoviSign has offices in the United States, France, Germany, Japan, and Tel-Aviv, Israel and has an ever-growing customer base of over 50,000 screens deployed worldwide, across all five continents, according to the company.
NoviSign provides complete cloud-based digital signage software solutions for businesses ranging from small shops to Fortune 500 corporations. Disney, Ikea, Dole, Home Depot, NASA, Nokia, and Papa John's Pizza are just a few companies that have worked with NoviSign.