Recently, we have seen the world of digital signage begin to move from traditional signage commercial venues into various new and different locales. Religious institutions are a wonderful example of a new customer base that has begun using digital signage around the world to distribute information to its communities. Therefore, we were very excited to receive and even more to share with you, some new photos of synagogues in the United States that have begun to use our digital signage services.
The above photos, which were taken in the Beit Am synagogue in Pennsylvania, clearly show how digital signage can be integrated within religious institutions such as synagogues and churches. It is interesting to see how innovative, digital services fit these places in terms of design and content.
Why should religious institutions use digital signage? For the same reason that every business needs distribution of information in a fast, simple and effective way. Upcoming events, special activities, birthdays and anniversaries, prayer schedules, requests for donation, sales of religious products and photos of the community are only part of what might be published on your screen—and easily updated as many times as you wish from any place in the world.
An example of one of our Synagogue templates – click here to see how it works.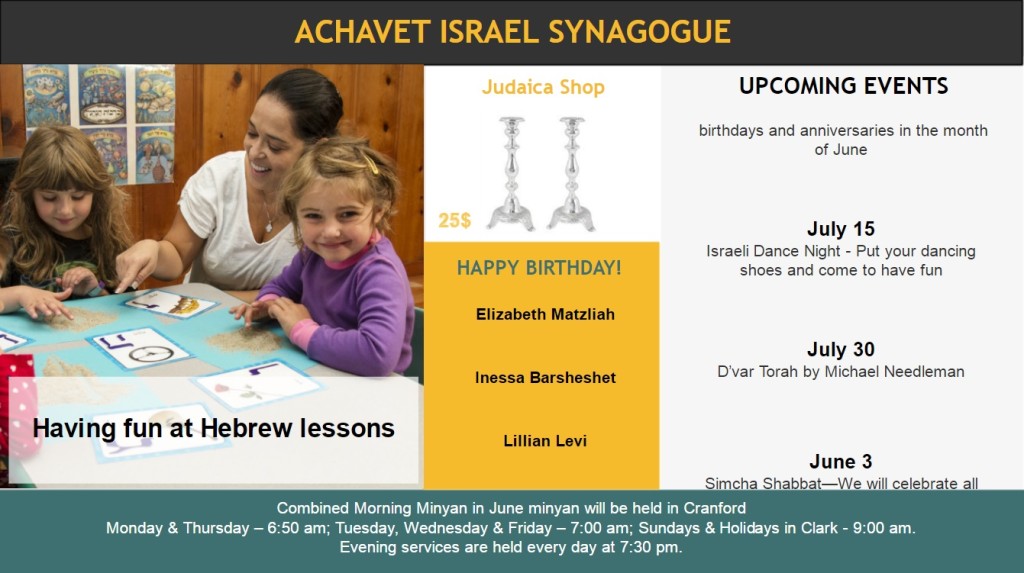 Here is a case study of another synagogue in the United States, called Beth Or.