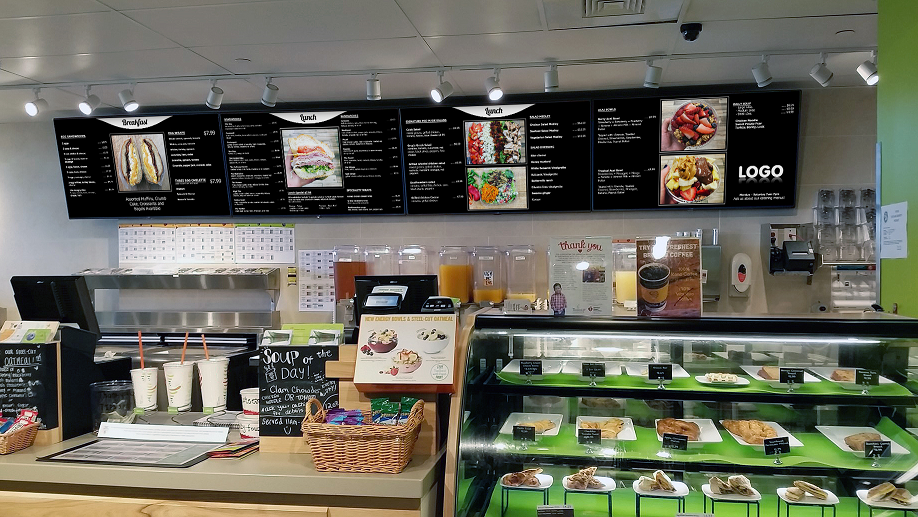 Digital Signage for Delis, specifically digital menu boards are one of the best and most effective ways to display your delis menu. Using digital signage for delis, you can display your entire menu, sandwiches, available sliced meats, hot or cold food items and more! Using deli digital signage, you will never have to print out a menu again.
Easily add deli menu items, prices and descriptions
Add images and change daily specials
Make on the fly changes to items
Preschedule deli menus for dayparting
Remotely manage and edit the menus from your computer
The advantage of Digital Signage for Delis
Because digital deli signage is 'digital', you have full control of what you display when you display and can make changes at any time from anywhere on any computer. Beautifully display your deli items in HD or 4K resolution to drive sales of new deli items and specials. You can also use digital signage for delis to spotlight your delis signature items.
Improve your branding and recognition with use of sharp imaginary
Decrease wait times with clear and easy read deli menu listings
Upsell side items and cross-sell drinks or appetizers
Drive sales of your highest margin items by featuring full-screen specials
Digital Menu Boards for Delis
Using digital menu boards, you can creatively design your menu to feature your soups, hot entrees, sandwiches, salads, pizzas, meats and other deli menu items. Easily add a section for daily deals or lunch specials. Use digital signage for delis to:
Meal combination prices with images
Nutritional information with the calorie count
Display custom scrolling text tickers and item descriptions
Promote your customer loyalty program
Deli Digital Menu Board Software
At NoviSign we provide a cloud-based digital menu board software for delis. Using the included digital menu board templates you can quickly and easily create your menu, add images and price.  Easily design your digital menu boards using the cloud studio software. Pricing starts at $20 per month and multi-screen discount are available.
If you need design and setup assistance, we offer custom digital menu board design services that are affordable.
To learn more send us an email info@novisign.com or try it our free for 30 days!