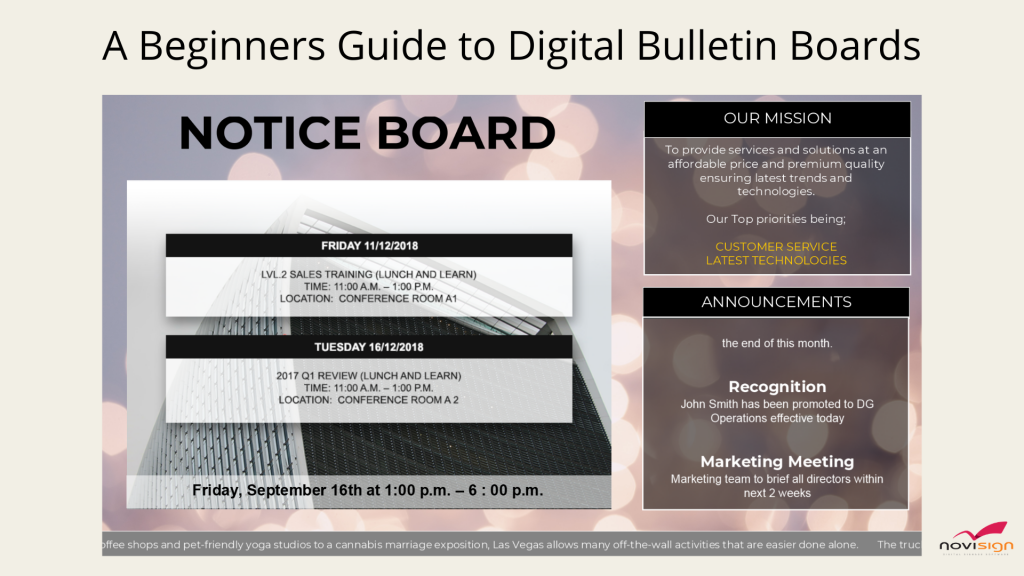 A Beginners Guide to Digital Bulletin Boards
Have you ever seen a bulletin board that is jammed packed with pins and papers that are cluttered and hard read? Probably yes. If you haven't, have you ever seen a bulletin board the is nicely organized but features out-of-date information that no one ever looks at? Maybe. Well, the odds you've seen something similar and are looking to upgrade to a digital message board.
Update the digital bulletin boards information within minutes

Share any combination of news, notices, updates and information

Reduce waste and eliminate the need for printing signage

Place digital bulletin in high traffic areas to get your messages seen

Welcome new employees, visitors and customers
What is a digital bulletin board?
A digital bulletin board is a TV that features your announcements and information. The flexibility that comes with a digital display board is what separates it from a regular bulletin board. Aside from displaying primary forms of notifications, you can incorporate engaging videos, add scrolling tickers of text or news, weather updates, local areas traffic maps and social media feeds.
You can update the digital bulletin board from any computer

Preschedule specific pieces content to play on particular days and times

Create a clean and organized layout the displays multiple zones of media and text
What can I display on a digital bulletin board?
Slideshows
With digital bulletin boards, you can either display full-screen slideshows or set a zone that rotates through your slides. JPEGS, PDFS, JPG, PNGS, Videos and PowerPoint slides are examples of items that you can incorporate into the digital bulletin board slideshow. Aside from media, you can also insert live web URL feeds that rotate through Google Slides and metric dashboards.
Scrolling Tickers and News
Another significant component is adding a scrolling ticker of news headlines, custom text and other notifications. The ticker adds subtle motion to the content that grabs attention.
Weather & Traffic Reports
Local weather reports and conditions can also be incorporated into the digital bulletin board content. You can either do a full-screen 5-day forecast that rotates through or add the current weather into a section of your content. Aside from the weather, you can incorporate a local traffic map that displays real-time updates of your cities traffic conditions.
Schedules and Event Listings
Display daily schedules, meeting listings, and full calendars. If you're looking to automate the process of displaying your calendar, consider integrating your O365 Calendar, Google Calendar or Exchange Calendar. This type of integration streamlines the process of showing your events. As you add/update your calendar, it will sync with the digital bulletin board and update it in real-time.
YouTube and Videos
Incorporate HD videos about your company, training clips, or your companies YouTube channel. You can also stream any YouTube video or playlist.
Internal Bulletins and Updates
For B2B digital bulletins are the perfect application for unifying your company communications. Company news, product updates, HR notifications, sales goals and employee recognition are all items that you can incorporate into the digital bulletin boards.
What do I need to setup a digital bulletin board?
To get a digital bulletin board up and running, you can use any TV. It doesn't matter if its a regular or smart TV. If you want to use a smart TV, make sure it is Android because you can install the digital signage app onto the TV. 
If you use a regular TV, you will need to connect a digital signage media player to the TV. A digital signage player is a small form device that connects to the TV via HDMI. On the signage player, it's self you would install the digital signage app. That app is what downloads the content to the player/TV.
Using a cloud-based digital signage software platform, you will then create the content for your digital bulletin board and send it to the signage player/TV.
About NoviSign
NoviSign offers a specially designed digital signage software for getting your content to a digital bulletin board. Using the customizable templates and the drag-&-drop widgets, you can create the perfect digital bulletin board that contains your companies most important messages and information. 
Our pricing is only $20 per month, and volume discounts are also available. We also offer special discounts for EDU, GOV and NON-PROFIT.