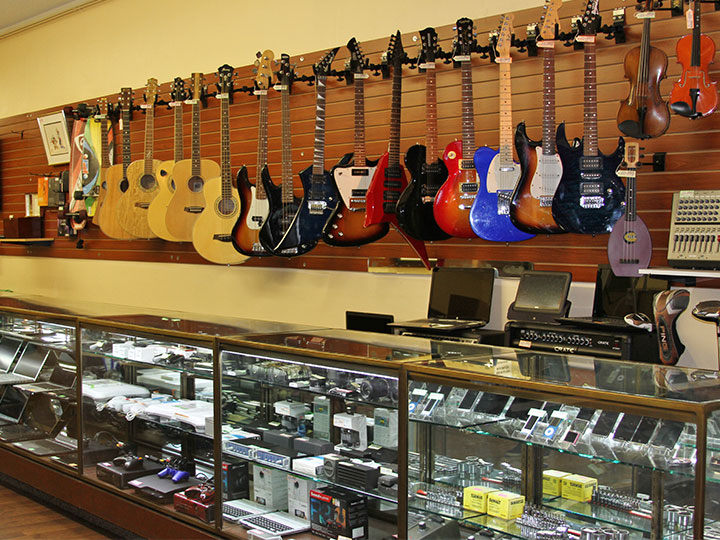 Pawn Shop Digital Signage is a great way to promote your pawn shops specials, announcements, engaging advertisements and other communications. When using digital signage for pawn shops, you can make on-the-fly edits to your content then remotely send the updates to your screen.
Use pawn shop digital signage to display:
Instant loan promotions and information
Buyback programs
Customer testimonials
FAQ and customer service
Daily and weekly deals
Law-away programs
Dynamic and Informative
By adding digital signage for pawn shops in high traffic areas of your store you will be able to reach your customers with targeted messages consistently. Say for example you have a waiting area in your buyback section of the store. In this area, you can put up a screen that provides useful information about your buy program, how it works and also list any specials. Also, you can pre-schedule different slides or templates to play on specific dates, times or set recurring schedules.
HD Images, Videos and Media Slideshows
With pawn shop digital signage, you can add any combination of media zones to the screen layout. From slideshows of sales to short videos clips with digital signage for pawn shops, you have the flexibility of showcasing all of your media on the screen!
Easy-to-Use Digital Signage for Pawn Shops
NoviSign offers pawn shops a web based digital signage software that is simple and straightforward. From any computer, at any time you can design and update your screen content, create playlists and schedules then remotely update your screens. Once sent you to monitor your screen status and if they are playing the content using the included monitoring dashboard.
NoviSign software can be installed on any Android TV, Android Media Player, Chromestick, Chromebox or Window Media Player.
Using the included drag-and-drop widgets, you can create dynamic content that features:
Images
Videos
Slideshows
Ticket
Shapes & Background
Label
Facebook
Twitter
News RSS
Weather
Clock
URL
Text
Polls
YouTube
Instagram