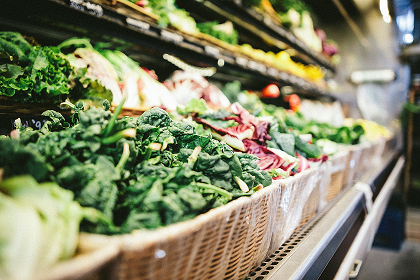 Digital Signage for Grocery Stores and Supermarkets
From screens in your store entrance to displays in your deli, digital signage for grocery stores and supermarkets can be used to enhance your customer's shopping experience while streamlining your ability to communicate with shoppers effectively.
Grocery store digital signage can be used to:
Promote new sales and promotions
Encourage impulse purchases
Drive customer loyalty program sign-ups
Enhance branding
Reduce printing cost of static signage
Increase Food Sales
By strategically placing screen across your grocery store in high traffic locations you can specifically target your customers with relevant promotions and information. Create individual sales for specific screens then wirelessly update them right from your computer! From daily deals to weekly or monthly promotions you can use grocery store digital signage as your silent salesperson. Popular digital signage for grocery stores and supermarket deployment examples include:
Add screens in your meat department promoting weekly sales
Set-up point-of-purchase displays on end-caps promoting items
Install displays at aisle entrances spotlighting special deals and coupons
In addition to advertising, you can use digital signage for grocery stores and supermarkets to generate revenue from ad sales. In-store targeted advertising is something that brands look for and benefit from. Local business may also be interested in promoting their services.
Develop Customer Loyalty
By making it easier for your customer to find products or bathrooms you are creating a stronger more enjoyable shopping experience. Digital Signage for Grocery Stores and Supermarkets can also add value to shoppers:
Share new recipes, cooking tips and tricks
List aisle information with directions
Add screen new check-out lines to reduce perceived check-out times
Grocery Store Digital Signage Examples
The power of digital signage for grocery stores and supermarkets comes down to its flexibility and control. Let's take a look at several popular items that you can feature on your grocery stores digital sign:
Social Media Streams: add your Twitter, Facebook or Instagram feeds
Daily Specials: spotlight a daily deal and preprogram them to play each day
Weather & News: add current forecasts, scrolling local news, or sports headlines
Deli Digital Menus: digitally display deli prices, images and specials
Total Control and Remote Management
With digital signage for grocery stores and supermarkets, you can easily and quickly make on the fly changes. From any computer, at any time you can edit a slide or price then wirelessly send it to a single screen or all of your screens. You can also pre-create and schedule new content to automatically play on specific days and times and set recurring schedules of content to play!
Getting Started With Grocery Store Digital Signage
Digital Signage for Grocery Stores and Supermarkets is easy and quick to set up.
To set up a grocery store digital sign, you will need only two things:
An android TV or a normal TV connect to a media player:
To start, you will need to get your display connected to the web. If you have an Android TV merely connect it to WiFi then open the Google Play Store, search 'NoviSign' and download our digital signage app.
Once downloaded you can open up a free 30-day trial account of NoviSign here:  https://www.novisign.com/registration/
After creating the account, log-in and select the Compose button. From there you can create a creative/template.