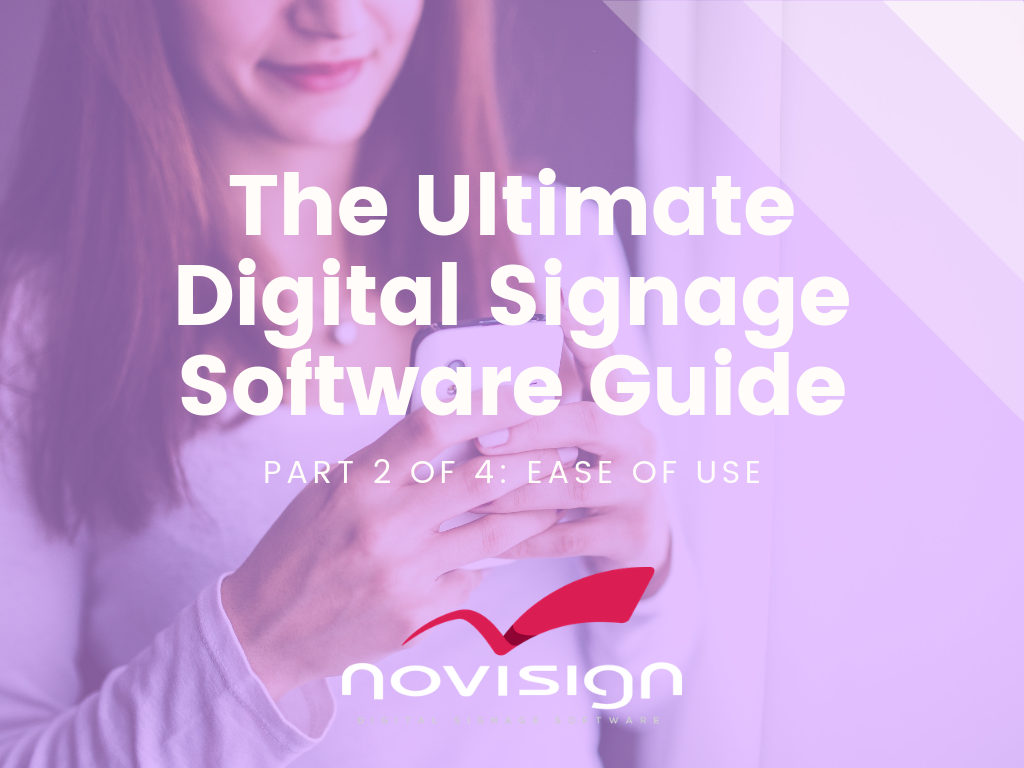 Every week we have new customers telling us that they never used the past digital signage software platform, because it was too hard to use.
Why does this happen? Well, it's simple. Organizations make purchasing decisions without having the day-to-day user test out the software.
In this article, 2 out of 4 in our 4-part Ultimate Digital Signage Software series, we're going to cover ease of use, one of the most critical aspects of digital signage software.
Ease of Use
Let's start with the user interface. A good digital signage software platform needs to be straight forward and easy to understand. Why? The average user doesn't have time to learn something new or click a million buttons to make a change. With NoviSign, everything you need is easily visible and accessible within one mouse-click the minute you log-in.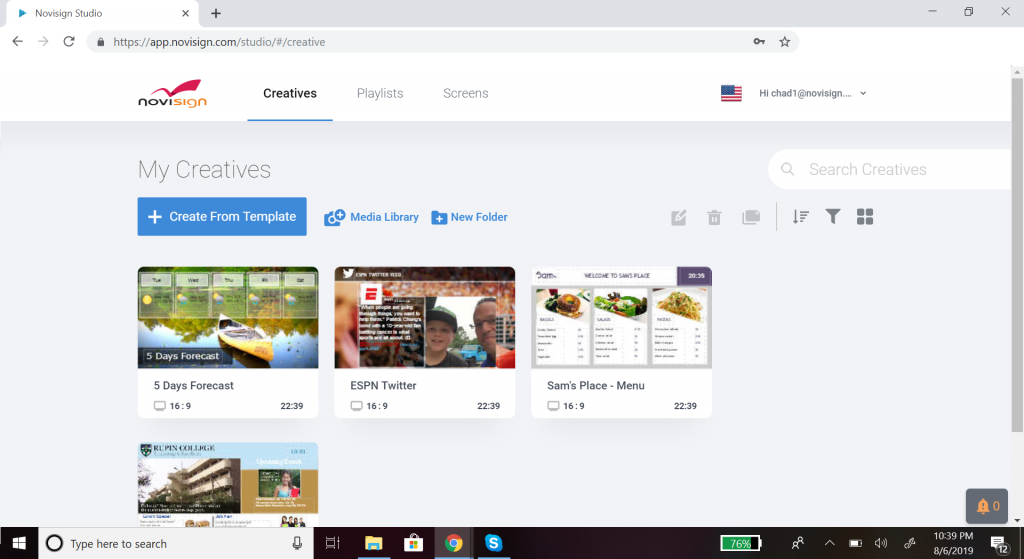 When first logging into NoviSign, you are taken to the creative section. This is where you can create new content or edit templates. To create something new, click the blue button titled 'Create from Template.' It is that easy.
Library of Templates
Because the average user may not have experience with graphic design, a digital signage software platform should have an entire library of digital signage templates. Templates will help you get started while giving you ideas of what to display on the screen.
Secondly, the templates should allow for customization; rearrange the layout, text, colors, backgrounds and other components. This will enable you to create the perfect design that contains your branding components.
With NoviSign, we have over 200+ professionally designed templates that empower complete customization. You can edit, delete and adjust every part of the template allowing for total flexibility and control.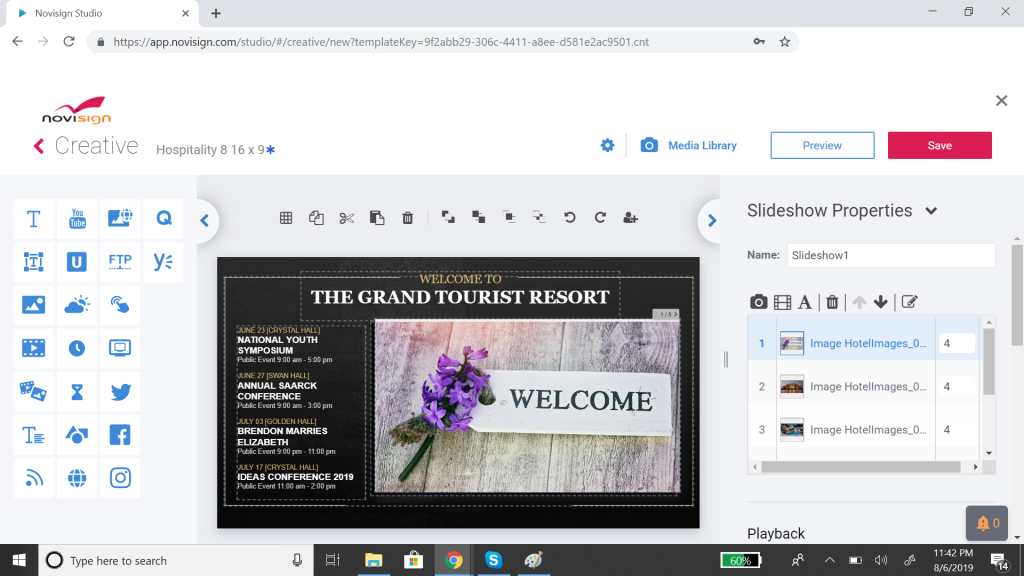 Using the drag-and-drop widgets, you can insert slideshows, news feeds, weather forecasts, YouTube videos, scrolling tickers, social media streams, webpages, Google slides, HD videos, virtual ques, countdown timers, interactive polls and more.
Playlists and Schedules
Another popular yet often overcomplicated component of digital signage is the ability to create playlists. The playlist creation process needs to be fast. But before we go any further lets first explain what a digital signage playlist is.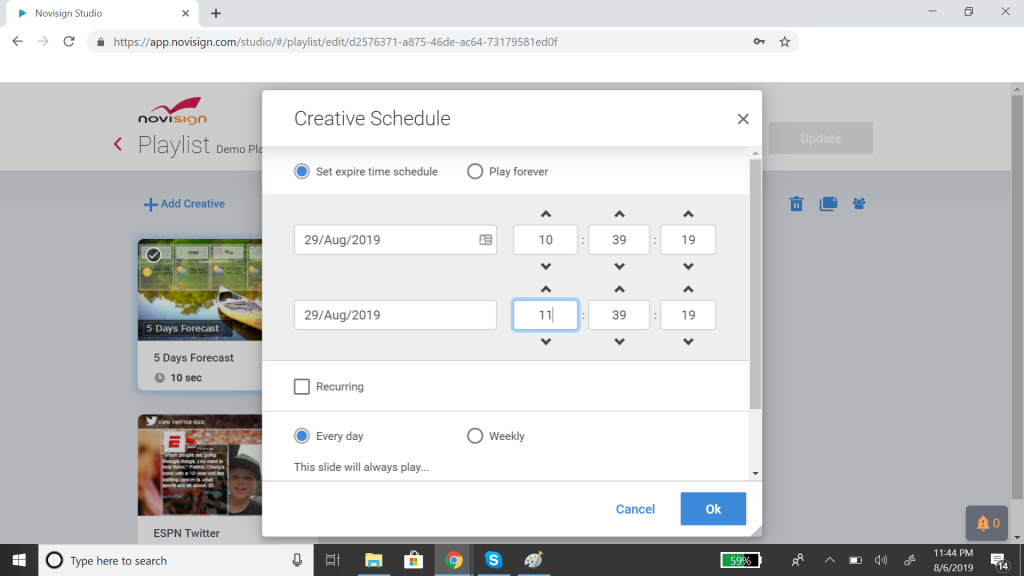 A digital signage playlist is a sequence of slides/templates that are set to play in a specific order. With NoviSign, you have complete control and flexibility when it comes to creating digital signage playlists.
Drag & drop your slides/templates to adjust playlist order

Set start and start dates/times

Schedules recurring dates/time (dayparting)

Assign plat duration times of each

template

Preview your playlist
Conclusion
Make sure every member of your team tries out the digital signage software. It must be easy -to-use while supporting the functions you need. Don't get swayed by a fancy website that overpromises and un-delivers.