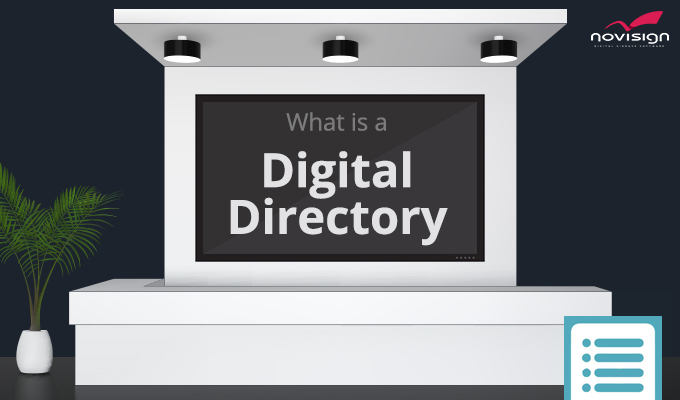 A digital directory consists of a screen, media player and digital signage software. A media player is a small box that connects to the TV via HDMI. Installed on the media player is digital signage software that will display the digital directory content. Every couple of minutes the media player with check the cloud for new updates, download them and display them on the digital directory.
What items can be displayed on a digital directory?
Because the directory is digital, you can creatively incorporate multiple zones of information and media. Aside from your standard tenant's listings, a digital directory can be used to high-light amenities information about your property, leasing contact information, local news feeds and more. Other popular items that you can display on a digital directory include:
Area traffic reports and maps
Live and local scrolling news feeds
Rotating slideshows that spotlight tenants
List of scheduled events and schedules
Weather forecasts and conditions
Digital directory pricing
Have you recently gotten a quote that was over five grand for one digital directory system? All too often companies today overcharge for the hardware, charge excessive rates for "creative design services," and then nickel and dime you for adding streams of live news feeds, weather forecasts and other basic features.
At NoviSign we offer a simple $20 per month. This pricing is all-inclusive and includes a full library of digital directory templates, an easy-to-use design studio, over 20+ drag-and-drop widgets, the ability to create and schedule playlists, plus you can remotely monitor the status of your digital directory systems.
How to create a digital directory?
A digital directory needs to be easy to read, clean and organized. The digital directory software must be simple enough so that your property manager can easily log-in and make on-the-fly updates. Using NoviSign digital directory software, you can choose from a variety of professionally designed digital directory templates that contain pre-made digital directory layouts that make the process of adding tenant listings easy.
With NoviSign you can easily add your properties logo, slideshows of your building images, custom scrolling text tickers and more! Using the drag-and-drop widgets, you can add visually appealing zones of content that can be customized around your exact needs. You don't have to have experience with design to use NoviSign digital directory software.
Simply select the directory template of your choice, add your tenants, then customize the layout with images, custom text, your logo and other media zones.
How to get started?
To get your digital directory set-up all that you need is a TV, media player and the software. You can use any time for your display. When it comes to media players, we recommend going with the X10 mini. That unit is commercial grade, comes with NoviSign preloaded and connects to your TV via HDMI.
Using NoviSign digital directory software, you will be able to design and manage your digital directory layout. All of the changes that you make on your computer will update on the screen within minutes.
For more information check out our presale FAQ on common digital signage questions.
Initial Design and Setup Services
If you're looking for digital directory design services, we do offer one-time custom design services. For one flat rate, we will custom design the digital directory for you. Your branding, colors, images and other requirements will all be creatively incorporated into the design.
Once you've approved the design, we will build it in your account. When you need to make changes to say listings, images, or other information you can log-in and make your edits.
Conclusion
If designed correctly a digital directory will add a modern appearance to your building. It adds an extra layer of visual appeal to your lobby that is welcoming. If your not sure how to get started or have questions about how a digital directory works, what it costs, or in general would like to learn more contact us today!