Overview
Among the most important features for your digital signage account, is the Devices 360 feature. It allows users to control all aspects of their devices directly from the NoviSign studio. It gives users the ability to remotely monitor and manage their devices. As a result, you will have a better understanding of your devices and can take corrective action as necessary.
Screen content
"Screen Content" is where you create the content that will be played and broadcast to your devices. You can still do everything you could do in the previous Screens tab, but here you will have more options available. 
Once you have created your screen content and playlists, you will be able to manage and schedule them for broadcasting across your devices.
The main feature that has been added is the ability to see which one of your devices is playing which Screen content. Not only will that, you can also assign and change the Screens instantly from the studio.
Manage screen's content 
The Screen content tab allows you to manage, schedule and organize all of your playlists in one place; that will then broadcast to your players.
In the content of the new screens you can assign Creatives to specific players directly from the online Studio CMS.
Devices
We have added a new feature to better monitor and manage the devices. A user is able to view device status, change settings remotely, check for updates and player versions, as well as determine if there is a connection problem with the device.
Updates to the Devices include:
Last seen device and ping status/connection status

OS version and players version

Content playing and status of download

IP address

Action needed notification for updating the app version

HDMI connection issue notification
Add device
In order to add a new device, you must login into your NoviSign account on the device. Learn more.

Control your devices
Now you can control your device and player remotely by changing the screen content from the online Studio remotely.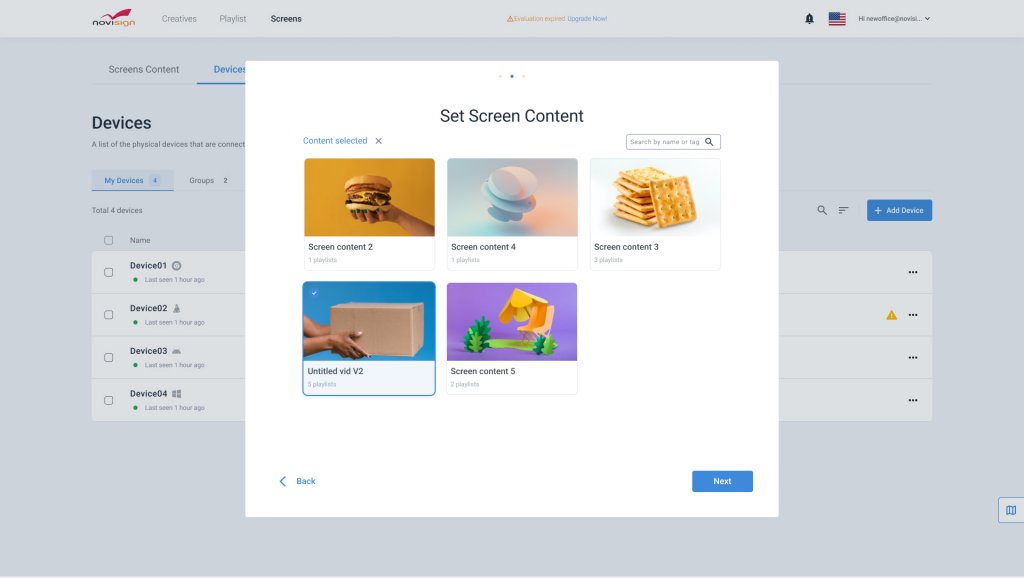 Monitoring
The new Devices lets you control, monitor and group all your devices in one place. Once the players are connected to your account they will appear live on the device list. 
How to create screen content and broadcast it to a device?
Click on "Add new screen content".
Select your playlists that you wish to play on the device and click "Create".
Tip for pro! Better set a brand new name for new screen content.
To add your first device to broadcast the content, download the NoviSign player app and install it on your device.
By signing in to the player's app on the device, the device is automatically updated in the online Studio CMS. The device will appear under the "Devices" tab.
Now the magic happens!
By clicking on Device > dropdown menu > Set screen content, you can easily add the screen content to your device. Select "Add device" on the "Screen content" list and select the content you wish to broadcast.
Related links:
Do not you know how to download NoviSign players? Learn more.
Do not you know how to broadcast digital signage? Learn more.
Don't you know how to update? Learn more.