Studio Web Editor v3.1.4-3
Updated the game widget.
Better compatibility between the Windows fonts and the Android fonts.
Bug fixes.
NoviGames will bring added value to your digital signage and will make it more interactive.
You're invited to watch our launch event at the Jasper pub for the NoviGames.
Also, here is a cool hilarious video to demonstrate the usage of 2 of the NoviGames.
Currently we have 3 interactive signage games: tic-tac-toe, 4-in-a-row and a race. The NoviRace works on the Android player application while all the 3 games work on the Air (Windows) player application. For Android you can also use our Flash Android application instead of the native Android application (it is not as good as the native application, but can run all the games).
For how to set up the games click here.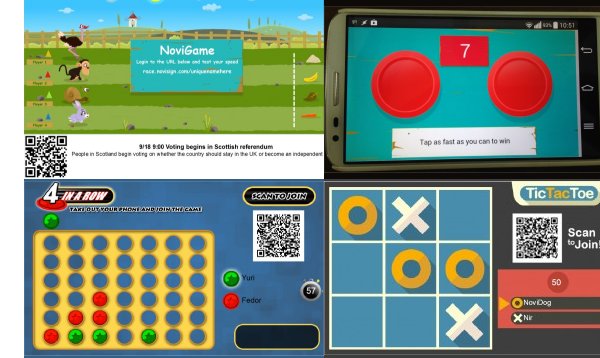 Air (Windows) Player v2.3.0-2
Supports the game widget (tic-tac-toe & 4-in-a-raw)
Native Android Player v3.1.2-7
Added a new setting: "Slideshow Transitions" – This can disable all the transition effects (images + videos) of slides within a slideshow widget. The default is set to on.
Added a new option for the setting "Video To Video Transition", "Background" – The video slide will fade out/in with the background color.
Studio web editor Built-in fonts now work well on Android.
The symptom of the WYSIWYG on Android was reduced.
Volume control property on videos works on Android now.
Download status of the Android player now appears as a new column in the player monitor report.
Fixed several download bugs on Android.