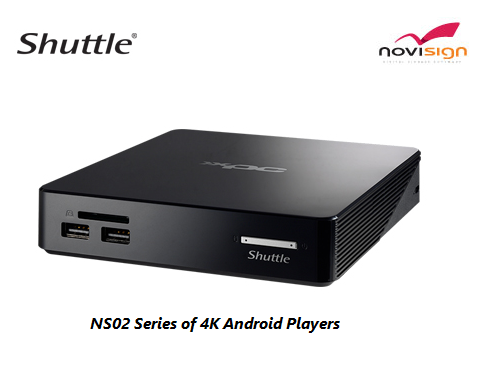 Shuttle Inc. (TAIEX: 2405), the global leader in small form factor computer technology, today announces that its ultra-compact digital signage players have obtained the compliance certification from NoviSign Digital Signage. Using NoviSign's comprehensive web-based digital signage software online studio, you can create beautiful digital signage.
The combination of Shuttle NS02 with NoviSign software provides a powerful yet easy-to-use solution to address the demand for fanless ultra-compact Android signage solutions with robust reliability and outstanding 4K video playback performance across a broad spectrum of retail, hospitality, education and restaurant environments.
Robust and Powerful
Shuttle's NS02 series signage players have undergone a series of rigorous tests to ensure the performance and compatibility for NoviSign digital signage. Ultra-compact, fanless, Shuttle NS02 series supports the Android system with excellent stability at a lower price. With native HDMI output, it drives a crystal-clear 4K Ultra HD content at 60Hz. With its fanless and palm-sized body, it operates noiseless and integrates easily into any limited space.
Built-in WiFi 802.11 b/g/n, Bluetooth 4.0, SATA storage interface, SD card reader and multiple USB headers allow for flexible connection and expansion. Designed for ease-of-use, the availability of Power-over-Ethernet (PoE) is also with NS02E and offers a convenient and cost-effective way to deliver power to simplify the installation of solutions for a variety of signage.
Easy-to-Use
With over +20 drag-and-drop widgets to choose from you can quickly design and manage engaging content that features live social media streams, data-driven polls, fun interactive games, and media-rich zones that feature videos, RSS feeds, HD images, scrolling text, weather and more! Shuttle specializes in small form factor PC for digital signage, point-of-sale (POS) and interactive kiosks in the retail, restaurant, food service and hospitality industries as well as motherboards and barebone systems.
About NoviSign
NoviSign has helped over 20,000 screens across 5 continents successfully deploy dynamic digital signage solutions. Some of NoviSign clients include Disney, Ikea, Dole, Home Depot, NASA, Nokia, Ferrari, Papa John's Pizza and more! NoviSign is a privately held digital signage software company based outside of Tel Aviv, Israel, with field sales offices in Portugal, Japan and the United States.
About Shuttle
Founded in 1983, Shuttle Inc. (TAIEX: 2405) is an industry-leading transnational company driven by innovation and a commitment to making quality products, including small form factor PCs, All-in-One PCs, ODM Notebooks and Tablets, as well as smart home and facial recognition turnkey solutions. For more information, visit www.shuttle.com