Audience Analytics for Digital Signage
Because customers are at the core of your business, it is essential that you create experiences that are excellent and memorable. Many companies today are using retail digital signage to improve experiences but struggle with tracking the results. The question for many retailers is "how can I measure the results and know digital signage is helping me reach my goals?
Facial Recognition Digital Signage
With Facial Recognition Digital Signage, you can measure the effectiveness of your digital signage in real-time. You can view the statistics from anywhere and anytime using NoviSign's online dashboard.
With this dominant new form of retail digital signage, you can adapt and customize your digital signage media and advertisements based on the audience viewing your screen:
AUDIENCE ANALYTICS: view the number of people who viewed your content
VIEWER DEMOGRAPHICS: determine the age group, gender, and emotions of your viewers
REAL-TIME AD'S: display targeted content and ads in real-time
OPTIMIZE CAMPAIGNS: check and analyze statistics in real-time
You can try out our digital signage software today free for 30-days. No credit card required. If you have questions you can email info@novisign.com.
If you're looking to learn more about our easy to use digital signage for retail please scroll down to read more!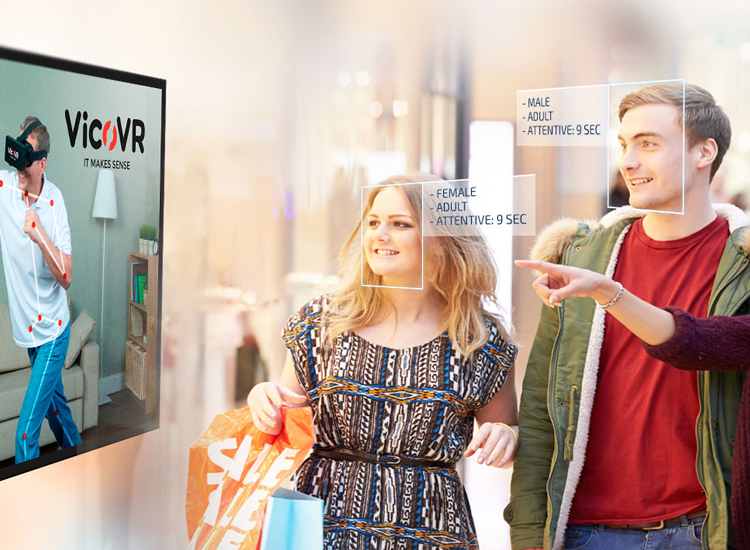 Viewer Analytics for Retail
Through the analytics, you can analyze foot traffic, identify busy store areas, and know customer demographics throughout the day. You can also know the preference of your customers throughout their buying journey – from their preferred route to the products and services they seek.
Here are other things you can do as you analyze audience analytics:
Evaluate foot traffic
Identify your customers' age, gender, and emotions
Evaluate customer interest in specific product lines
Analyze customer behavior to optimize product merchandising
Trigger specific ads to play based on your store demographics
About NoviSign Digital Signage
NoviSign is known for RELIABILITY & EASE OF USE! Includes over 20 drag and drop widgets; HD videos, dynamic slideshows, weather, Facebook, Twitter, Instagram, RSS, virtual queue, website integration, interactive polls and more. NoviSign also includes a complete real-time monitoring dashboard for easy tracking of screens/media players. Proof play reports, live online connectivity, and more.
Price starts at on $20/month and includes full support and training
Runs on Chrome OS, Android, & Windows!
Related Information