Introduction: What is digital signage?
Digital signage is an electronic display that shows information to the public. It is used in various ways, from displaying information about the company to advertising.
In recent years, digital signage has been used in many different industries, including retail, education, restaurants, and healthcare. Digital signage provides a way to reach customers with targeted messages and advertisements more cost-effectively than traditional advertising methods such as print ads or billboards.
Digital signage can be an excellent tool for advertisers who want to reach many people with their message without being intrusive or using traditional marketing methods such as billboards or TV ads.
Digital signage can be used for various purposes, such as advertising goods and services or providing information. Digital signs are also popular with retailers because they can be programmed to show advertisements based on the time of day or who walks by the sign.
Aside from advertising, digital signage can also display information to people who need it, such as emergency messages or evacuation instructions.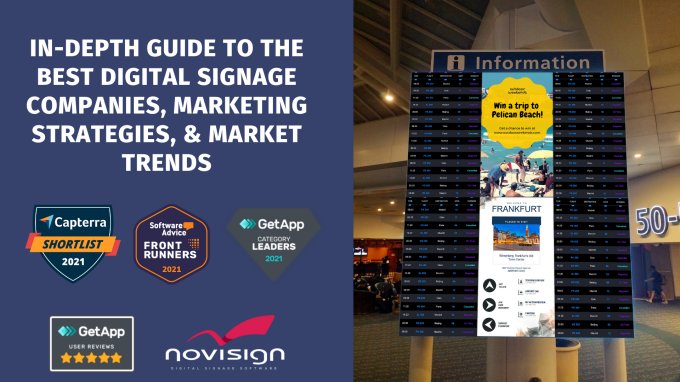 What are the benefits of digital signage?
Digital signage is an inexpensive form of advertising that can be used in many different ways. Digital signage allows for more flexibility in the message you want to convey, which is why it is so popular among advertisers.
Digital signage provides an opportunity for brands and organizations to have their messages seen by the masses in just about any location, which means that it can be used as an effective form of communication for companies of all sizes.
Broadcast: It allows companies to reach more people at once since it is displayed on screens in public places
Engagement: Digital signage provides a way for customers to engage with the company and its products and services
Cost: Digital signage doesn't require much investment and can offer a lot of exposure for businesses
How does Digital Signage Affect Your Business?
In the past few years, digital signage has been gaining popularity to provide more information and engage customers with interactive content. In addition to being an engaging marketing tool that can be used in many different ways, it also offers many benefits for businesses.
Digital signage has been shown to increase customer loyalty and brand awareness while reducing operational costs. As a result, Digital signs are now being used as an alternative for traditional advertising methods such as radio, TV, newspapers and billboards. They can be placed anywhere from the lobby of your company's office building to the inside of your store. It can also be used to display safety instructions, corporate communications and news updates.
How do I get started?
To get started, you need a TV and your computer! Using NoviSign, you will set up the content you want to display on your screen. With NoviSign, you will be able to set up engaging slideshows, add scrolling tickers, live weather reports and more! When it comes to setting your information to play, you can schedule your content to play on specific dates and times.
You can try it out free for 30-days: https://www.novisign.com/registration/
Have questions? Contact us today: https://www.novisign.com/contact/
Misha.